Google Android counts include rival Chinese variants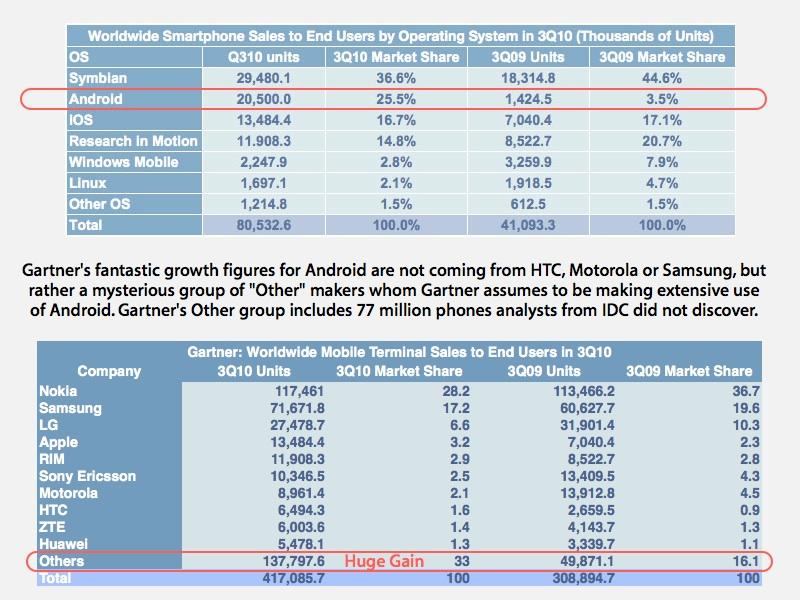 AppleInsider is supported by its audience and may earn commission as an Amazon Associate and affiliate partner on qualifying purchases. These affiliate partnerships do not influence our editorial content.
Hot on the heels of Samsung admitting that it had exaggerated sales of its Android tablet to consumers, it is becoming clear that Google's Android platform definition is being stretched to include Chinese rivals, including China Mobile's Ophone and Tapas OS, a project run by the former president of Google China.
A report by Canalys yesterday claimed that Google Android platform had taken the top spot in global smartphone platforms worldwide, edging in front of Nokia and making up about a third of all smartphones globally.
That fourth quarter figure, collective of all manufacturers using Android in some fashion, is double that of Apple's Q4 iPhone sales, a dramatic reversal of last year, when Apple's sales were twice that of all Android licensees together, according to Canalys.
However, the report's numbers included a footnote saying the "Google numbers" "relate to Android, as well as the OMS and Tapas platform variants."
In reference to these "variants," John Gruber of the Daring Fireball wrote today, "Are things like maps, email, search, and advertising served through Google? Or do they come from Chinese companies? Put another way, are OMS and Tapas variants of Android, or separate platforms forked from Android?"
OMS is not Google Android
OMS is the basis of China Mobile's OPhone platform, which was originally based on Android software but adapted for use on the national providers' proprietary TD-SCDMA mobile network. A year ago, Engadget reported that China Mobile intended to use OMS to host Symbian and Windows Mobile apps, and was preparing support for a cloned copy off Microsoft's Windows Mobile APIs in OMS 2.0.
Over the last year, Microsoft has largely abandoned Windows Mobile to focus on its Silverlight-based (and therefore API incompatible) Windows Phone 7, making such a feature seemingly less valuable. However, China Mobile is largely isolated from competition from other smartphone makers, few of which have jumped to support its unique TD-SCDMA carrier technology. That allows it to take Western technologies and appropriate them as desired, much as the nation has created its own incompatible variants of everything from DVD to WiFi.
Describing the Chinese OMS as a "variant" of Google's Android platform is a troublesome stretch not just because China Mobile lacks any interest in using its forked version to support Google's ad platforms and services. OMS is also tweaked to use its own APIs and support WAP for web browsing. WAP (Wireless Application Protocol) is a mobile website technology that replaced the full Internet for mobile users there but hasn't ever caught on in the US.
China Mobile's OMS is therefore not only "not Google," its also incompatible with Android apps, and apparently more compatible with Windows Mobile. A report by an Asian technology newsletter said China Mobile issues its own SDK for OMS, and boasts around 600 apps for the OPhone. The company claims 430,000 developers for its platform. It invites Android developers to create apps for OMS, but the two are not the same platform in any meaningful sense.
Tapas OS is not Google Android
A parallel effort, named Tapas OS, is also derived from Android but similarly does nothing to benefit Google or other users of the Android platform. Launched by Kai-Fu Lee, the former president of Google China, Tapas is also modified to support Chinese social networks, ebooks, video sites, search and other services that are not connected to Google.
Calling Tapas a version of Android is like calling Baidu a version of Google or Youku a version of YouTube. Like OMS, Tapas is an Android competitor. Speaking of Chinese efforts to replicate Western technologies, Lee said in a Wall Street Journal profile, "American companies often have a technology lead, as Google did. However Baidu evolved and became good enough."
Lee added, "We're not trying to reinvent the wheel."
Lee announced deals with Sharp, Haier and Tianyu to license Tapas OS for phones aimed at China.
Macro-fragmentation of "Android"
How many of the 33 million "Android" handsets are actually benefitting Google and the users of Android platform (who benefit from a larger installed base for apps only if the installed base is actually made up of compatible devices) was not split out by Canalys. Clearly however, such a disclaimer would not need to have been made if the addition of those Chinese rivals had not been necessary to beat Nokia's Symbian.
It's also curious why OMS was not also counted as a Nokia or Microsoft platform if OPhone can claim API compatibility with those platforms in contrast to its inability to run Android apps, including Google's. Doing so would have had an impact on the 615 percent growth reported for "Android."
Gartner similarly counted blockbuster growth for Android in the third quarter of 2011, but relegated most of this growth into a bucket of "other" manufacturers. The top tier of recognizable Android makers, including HTC, Motorola and Samsung, all of which Google has partnered with to release new versions of Android, have all experienced far more moderate growth in sales numbers (or in the case of Motorola, shrinking sales).
That suggests most the growth in "Android" numbers is coming from no-name vendors selling devices in countries such as China, using devices that don't support Google's development of the OS (via ads or search services) nor even expand the platform in any meaningful way that could benefit Android users.
Samsung, the most noteworthy Android smartphone developer and the only licensee to ship a well-known Android tablet, just reported its weakest profits in six quarters, and was hit by reports that it had overstated the sales of its Galaxy Tab to consumers. A new crop of tablets running Android 3.0 will deliver an entirely new user interface unfamiliar to existing Android smartphone users.
LG, another large Android licensee, recently noted that carriers have complained that the company's portfolio of phones delivered "too much Android."