Briefly: iPad App Store tweaks, Apple Store fraud, insider trading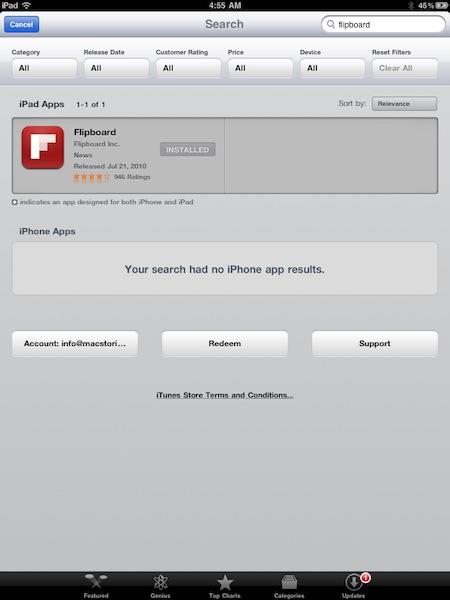 AppleInsider may earn an affiliate commission on purchases made through links on our site.
Apple has quietly updated its iPad App Store to add search filters and remember purchased apps, and 27 individuals have been charged for a complex theft ring that allegedly used fraudulent credit cards to purchase over $1 million in Apple products. Also, the former Apple supplier executive accused of insider trading was indicted Thursday.
Reports emerged Thursday that Apple had made several changes to the iPad version of the App Store. According to MacStories, a new search filter feature has been added that allows users to refine searches according to Category, Release Date, Customer Rating, Price and Device.
By adding search filters to the App Store, Apple is addressing one critique of the popular digital storefront: 'discoverability.' With over 300,000 apps on the App Store, developers have puzzled over how users will find their offerings among scores of competing apps.
Last fall, the Cupertino, Calif., company began deleting the records of "squatters" who reserved an app name without uploading a binary within 120 days. Some developers report having their apps, titles, and graphics stolen on both the App Store and Mac App Store, despite Apple's guidelines and approval process.
Apple also modified the iPad App Store Thursday to have already purchased apps display an install button instead of the usual button prompting a user to buy the app.
A group of thieves ran a complicated network that would purchase credit card information, manufacture fraudulent credit cards, use the credit cards at Apple retail stores, then sell the Apple products through 'fencing' operations, ifoAppleStore reports. Earlier this week, 27 individuals were indicted on charges in connection with the group, which went by the name S3.
Authorities discovered the crime ring while its alleged boss ran the operations from jail while serving time for an unrelated charge. S3 operated from June 2008 until as recently as December 2010, visiting Apple Stores in 13 states and making off with more than $1 million in loot.
Searches conducted last year recovered several firearms, credit card making tools and $300,000 in cash.
"This case demonstrates the dangers of organized computer crime," said Manhattan District Attorney Cyrus Vance. "Today, we have effectively dismantled a significant criminal operation that preyed upon innocent victims around the world. By working with our partners in law enforcement, we will continue to use all available tools to root out cybercrime in New York City and beyond."
In a press release detailing the charges, Vance thanked Apple "for its cooperation during this investigation."
The police report does not mention why the criminals targeted only Apple Stores. Apple's brick-and-mortar stores have also been subject to a rash of smash-and-grab burglaries because of their glass doors and high value merchandise.
Insider trading indictment
Former Apple supplier executive Walter Shimoon was indicted Thursday on insider-trading charges, the Associated Press reports. Shimoon was arrested in December of last year as part of a federal probe into "expert-network" firms that connect industry employees with hedge and mutual fund analysts.
While serving as senior direct of business development at Apple supplier Flextronics, Shimoon allegedly leaked information regarding the unreleased iPad and an unreleased iPhone while serving as a 'consultant' for expert-network firm Primary Global.
In addition to Shimoon, five others were indicted on civil charges accusing them of making about $6 million in profits for selling confidential information. The six havev also been previously named in criminal cases in what authorities have called the biggest hedge fund insider-trading case in history.
According to the report, the SEC is seeking restitution and civil fines from the six, and hopes to bar Shimoon and others from serving as officers or directors of any public company.