Rumor: Apple looking to buy developer for new iOS notification system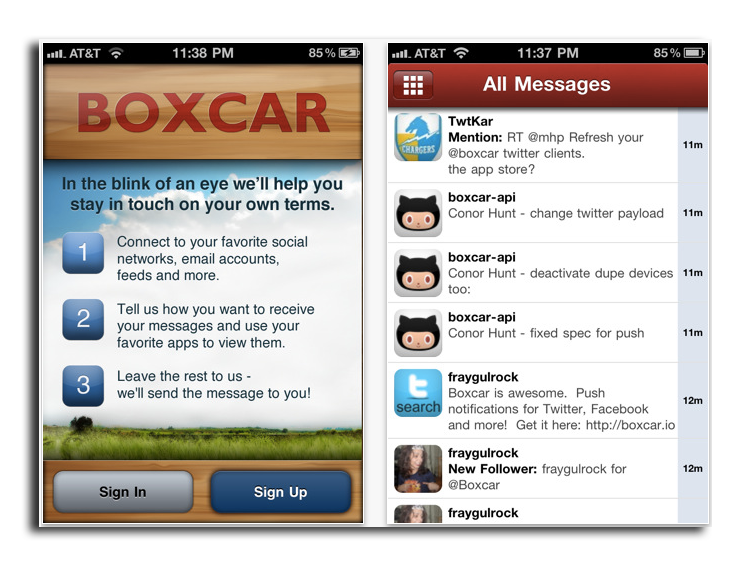 Apple may buy a third-party App Store iPhone developer to help it create a new notification system for a future version of iOS, according to a new rumor.
An anonymous source reportedly informed Cult of Mac that Apple is "trying to buy a small app developer" in order to update is iOS notification system. The individual apparently did not know the name of the company, but said it has already created an iPhone application that is available in the App Store.
Author Leander Kahney suggested that one potential acquisition could be Boxcar, a free application (iTunes link) from developer appremix. The software controls push notifications for applications such as Facebook, Twitter, e-mail, RSS feeds and more.
The notification system in iOS has been criticized by many for being too intrusive, forcing users to immediately view or close an update from an application or service, rather than giving the ability to revisit it later.
Last June, it was discovered that Rich Dellinger, former user interface design architect at Palm and creator of the non-intrusive webOS notification system, was hired by Apple. That led to speculation that the iPhone maker was looking to improve its push messaging and notification system for iOS, but thus far the functionality has remained largely unchanged.
Apple typically releases a major update for iOS, its mobile operating system, once a year in June. Last year, Apple showed off features of iOS 4, including multitasking support, to developers, and the software eventually shipped alongside the launch of the iPhone 4 in June.
Cult of Mac's recent track predictions have missed the mark, as the site incorrectly reported last October that the new MacBook Air would have user-upgradeable RAM, processor speeds up to 2.4GHz, and a battery life of between 8 and 10 hours. The site did corroborate AppleInsider's own, accurate report that the new MacBook Air would come in two screen sizes: 11.6 inches and 13.3 inches.
The site also claimed in November that Apple plans to include a near-field communications RFID chip in the next-generation "iPhone 5." It was said the hardware would not only allow "e-wallet" transactions, but also grant ability to securely turn a nearby Mac into your own computer, complete with custom settings and personal passwords.