Apple to announce new high-speed connector for Macs, report claims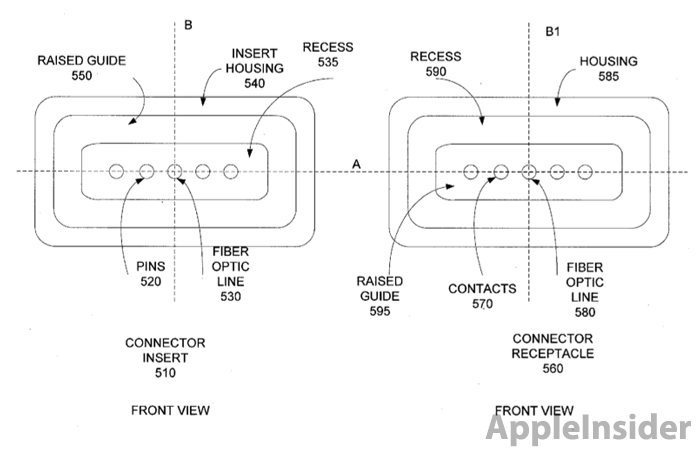 AppleInsider may earn an affiliate commission on purchases made through links on our site.
Apple is on the verge of introducing a new high-speed connection to some of its Mac computing lines, according to report that speculates the announcement could accompany revised MacBook Pros expected as early as next week.
Citing a source with knowledge of the matter, CNet guesses that the technology may actually be Intel's much-anticipated Light Peak connector rebranded under a different marketing name chosen by Apple.
The publication, however, hedges its bets on a timeframe for the rollout, saying it could come as early as this week alongside updates to Apple's MacBook Pro line or sometime further down the road.
If the technology is scheduled to make its debut alongside Apple's new notebooks, the rumor would coincide with claims made by AppleInsider's sources that new MacBook Pros expected in the coming days will sport significant feature enhancements outside of the expected move to Intel's Sandy Bridge architecture. It could also explain an earlier report that claimed the new notebooks would sport minor modifications to their chassis design.
Light Peak is a high-speed optical cable technology developed by Intel that has been widely expected to make its debut on personal computers and peripherals sometime during the first half of 2011. It supports bandwidth of 10Gbps, with the possibility of scaling up to 100Gbps in the future. A full-length Blu-Ray movie could transfer over Light Peak in less than 30 seconds, Intel states on its website.
At least one report dating back over a year claimed that Apple was actually the driving force behind Light Peak, using its influence to push Intel to develop the concept because it wanted the new standard to play "a hugely important role" in future products, replacing a variety of existing ports, including USB, FireWire, and DisplayPort.
Unlike bulky copper cables (like HDMI), Light Peak achieves its speeds over fibre optic strands the size of a human hair. And unlike existing ports focused on solving a specific problem, such as USB for simple peripherals, DisplayPort for video, SATA for disk drives, and Ethernet for networking, Light Peak can handle multiple protocols over a single cable.
Using optical rather than electrical signaling to achieve an initial throughput of 10Gbps, the technology is similar to high-end optical Fibre Channel or HDMI, and ten times faster than Gigibit Ethernet, more than twenty times faster than USB 2.0, and three times faster than eSATA/SATA 300. Within a decade, Intel expects to achieve speeds of 100 Gbps through a successive revision to the technology.
Replacing nearly all of the external ports on existing notebooks or mobile devices with Light Peak would enable a new generation of industrial designs without sacrificing features, as the MacBook Air had to do to achieve its thin outline. It would also enable users to run a single cable to an external display to provide video, audio, touch input, and peripheral expansion that included blazing network performance and high speed disk access.
Rumors have also suggested that within a year of launching Light Peak for Macs, Apple anticipates rolling out a low power version suitable for use in mobile devices such as the iPhone, iPod touch, and the iPad.
As recently as last week, AppleInsider discovered a new patent request from Apple that provided evidence the Mac maker was exploring the addition of an optical signal path for future MagSafe connectors on Macs, allowing the magnetic port to send and receive data, as well as power the device. It joined a similar patent awarded to the company last fall.