China Telecom CDMA iPhone may arrive in June with OTA activation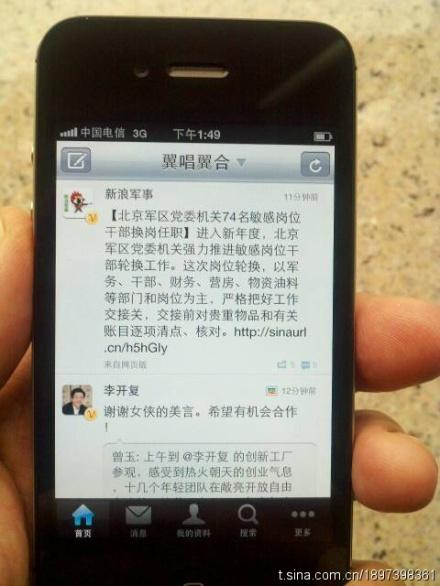 AppleInsider is supported by its audience and may earn commission as an Amazon Associate and affiliate partner on qualifying purchases. These affiliate partnerships do not influence our editorial content.
Chinese language news sites are reporting that a limited launch of a CDMA iPhone on the China Telecom network could come as early as June of this year and may rely on over-the-air wireless activation.
Posts to a Chinese micro-blogging site purportedly from a China Telecom marketing manager in Guangdong earlier this week indicate that the carrier has overcome the final technical difficulties in bringing Apple's CDMA iPhone 4 onto its network. Because the Verizon iPhone lacks a SIM card slot, China Telecom engineers have been hard at work testing wirelessly "burning" subscriber number data onto the handset in lieu of a SIM card. The manager's posts included photos of a CDMA iPhone with full signal and 3G data on the China Telecom network.
Sources have told Beijing-based news agency Xinua (via Google Translate) that a CDMA version of the iPhone 4 is expected to be available in Beijing by June after limited testing in Guangdong. According to the report, customers will be able to program a number online without having to visit a China Telecom office.
Analyst Brian White with Ticonderoga Securities noted the China Telecom developments in a recent note to investors and reiterated the firm's $550 12-month price target for Apple. Last week, White relayed to investors that China Telecom had completed its first test call with the CDMA iPhone 4 and that the carrier had nearly reached a deal with Apple. Rumors of the iPhone on China Telecom have persisted since before the CDMA-capable iPhone 4 on Verizon was announced earlier this year.
As the third biggest wireless carrier in China, China Telecom has approximately 90 million subscribers. By comparison, second-place China Unicom has over 160 million subscribers and China Mobile is the largest wireless carrier in the world with 560 million customers.
According to a recent note from Piper Jaffray analyst Gene Munster, Apple has barely scratched the surface of its growth potential in China. Munster sees Apple beating Wall Street expectations by sustaining 20 to 35 percent growth through 2015 as iPhone adoption in key markets like China continues to accelerate.
In order to cope with growing demand, Apple plans to open more than 20 additional stores in China over the next several years. The iPhone maker launched a Simplified Chinese language version of the Apple Online Store and the iOS App Store last fall.
If last year's launch of the iPhone 4 in China is any indication, Apple has plenty of room to grow. Thousands of eager buyers lined up on launch day to purchase the smartphone.
Demand for the handset outstripped supply for months, causing scalpers to wait outside Apple retail stores in hopes of selling the devices for a profit.
In December, White reported that the iPhone 4 remained sold out "for two months at authorized Apple resellers, Apple stores and China Unicom."