Purported iPhone 5 part surfaces with alleged deals of sliding cover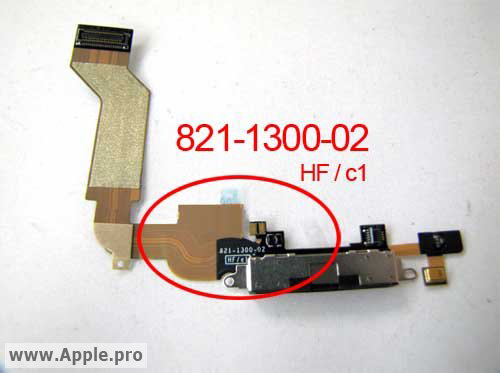 A 30-pin dock connector cable claimed to be a prototype part for Apple's forthcoming iPhone 5 has surfaced overseas, along with more details of a handset with a sliding screen cover that could suggest a hardware keyboard.
tw.apple.pro posted on Monday a photo of a part claimed to be from the iPhone 5. It appears to show the 30-pin dock connector and the ribbon used to attach it inside of Apple's handset. The part is labeled 821-1300-02 HF/c1.
A rough translation of the report via Google Translate claims that recent online photos of a different part claiming to show an edge-to-edge 4-inch display in the next iPhone are fake. Some reports have suggested that Apple is considering a slightly larger screen size for its next handset.
Instead, the report claims Apple has built a new iPhone model with a "sliding cover." It notes that the alleged device has a "frame shape" similar to the current iPhone 4, though the device is "slightly thicker" than the current-generation iPhone.
Though the roughly translated report does not specifically indicate that the "sliding cover" would involve a keyboard, the same site earlier this month said that Apple was evaluating three prototypes for the iPhone 5, and one of them allegedly has a slide-out keyboard. In that report, it was said that a "sliding cover" would conceal a keyboard on the handset.
Finally, the translated post also makes mention of a "3D screen." It seems to suggest that a future iPhone will employ 3D, "but not iPhone 5," it states.
Apple.pro has been the source numerous hardware leaks from Apple's overseas suppliers. Last July it showed off a mysterious small touchscreen it speculated could be used in an "iPod touch nano." Apple eventually, in September, unveiled its new iPod nano with a tiny multi-touch display.