New iPad 2 dock revealed; Apple offers $100 refund to recent iPad buyers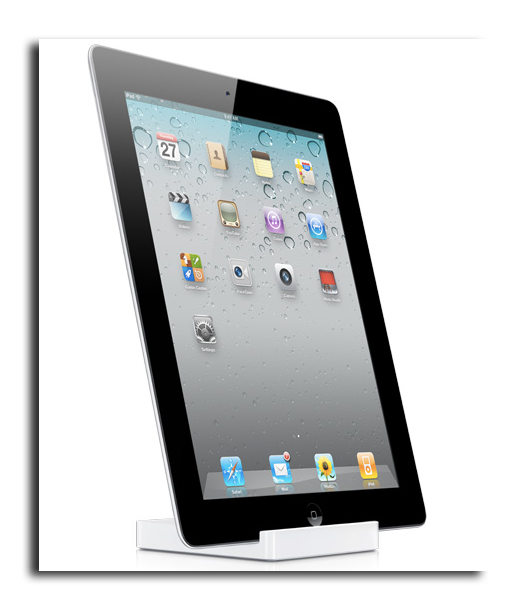 AppleInsider is supported by its audience and may earn commission as an Amazon Associate and affiliate partner on qualifying purchases. These affiliate partnerships do not influence our editorial content.
Customers who bought a first-generation iPad in the last two weeks can opt to return their device to Apple, or request a $100 refund, now that the iPad 2 has been announced. Also, the company will release a new dock designed to fit the smaller form factor of the iPad 2, though no new keyboard dock has been shown.
As first reported by Electricpig.co.uk, Apple will refund the price difference to anyone who has their original purchase receipt and makes the request in the company's standard 14-day return window. With the iPad 2 announced on Wednesday, that would mean buyers as far back as Wednesday, Feb. 16 would be eligible.
Of course, with the purchase also within the 14-day return window, customers could also opt to return the first-generation iPad entirely. For the same original purchase price, those buyers could wait for the iPad 2 to go on sale on March 11, as the second-generation device has the same six price points as the first iPad.
Though the iPad 2 starts at $499 for the 16GB Wi-Fi-only model, like its predecessor, Apple on Wednesday began to clear its inventory of last year's model. With the old iPad now on clearance from Apple, the starting price has dropped by $100, meaning customers can buy the 16GB Wi-Fi-only model for just $399.
Following yesterday's iPad 2 announcement, Apple also updated its official accessories page for the iPad to feature new products designed specifically for the second-generation device. Among them is a new dock made to fit the new, thinner profile of the iPad 2.
"This sleek dock stand is your personal hub for all things iPad," the product description reads. It is not yet available for order. "Get easy access to a port for syncing or charging, and an audio line out port for connecting to powered speakers via an optional audio cable. The iPad 2 Dock also supports other accessories, such as the Apple Digital AV Adapter and the iPad Camera Connection Kit."
Both the iPad 2 dock and the Smart Cover are new products designed for the second-generation device. The company on Wednesday also announced a new HDMI adapter that will allow 1080p output from the iPad 2, but the $39 "Digital AV Adapter" will also support 720p video output on the iPhone 4, fourth-generation iPod touch, and first-generation iPad.
Unchanged accessories from the first iPad include the Camera Connector, SD Card Reader, Apple Wireless Keyboard, Apple VGA Adapter, iPad 10W USB Power Adapter and more. Unlisted on the official accessories page is a keyboard dock designed to fit the iPad 2.