Dual core SGX543 dramatically boosts iPad 2 graphics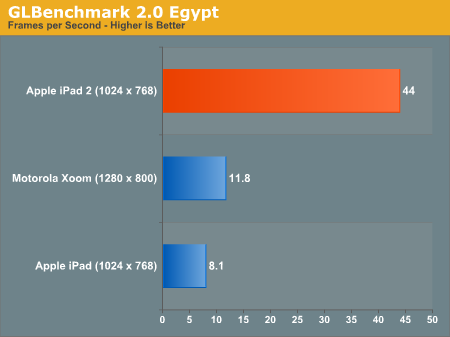 AppleInsider is supported by its audience and may earn commission as an Amazon Associate and affiliate partner on qualifying purchases. These affiliate partnerships do not influence our editorial content.
The multiple core SGX graphics built into the iPad 2 A5 System on a Chip processor deliver benchmarks from 3 to 7 times faster than the original iPad, and smoke competing mobile chips such as Nvidia's Tegra 2.
According to a report by AnandTech, the new A5's SGX543 "shader pipeline can execute twice the number of instructions per clock as the SGX 535 [in A4], and then there are four times as many pipes in an SGX 543MP2 as there are in a 535.
"There are also efficiency improvements as well. Hidden surface removal works at twice the rate in the 543MP2 as it did in the 535. There's also a big boost in texture filtering performance."
In synthetic benchmarks that draw textured and fragment lit triangles and fetch textures, iPad 2 delivered results 3 to 5 times faster than last years' iPad a from 2 to nearly 7 times faster than Motorola's new Xoom.
In GLBenchmark 2.0 tests that more closely match the tasks of a real 3D game, iPad 2 outperformed last year's iPad by 5.4x, and was 3.7x the performance of the Tegra 2 powered Xoom.
Turning on anti-aliasing to smooth play black, the iPad 2's performance lead reached 7x. Apple claimed a boost in graphics performance by as much as 9x, but the report states "I'm not sure that you'll ever see 9x running real game code."
Epic's Infinity Blade game is already taking advantage of the new graphics processing power to enhance its gameplay on the iPad 2 using higher resolution textures and anti-aliasing for more detailed, smoother graphics.
Apple has been working with Imagination Technologies to build ever faster mobile chips that pair ARM GPU cores with Imaginations' SGX graphics processor cores, part of a secret licensing deal that AppleInsider repeatedly broke news of since 2008.
The same SGX543 graphics processor cores that AppleInsider was first to report being incorporated in the A5 will also be used in the upcoming iPhone 5, as it too will also use the same A5 chip at iPod 2.
Apple's new A5 pairs dual ARM Cortex A9 cores clocked at 1GHz, which dynamically scales down in speed to save battery life.