Review roundup: BlackBerry PlayBook a promising start, but not quite finished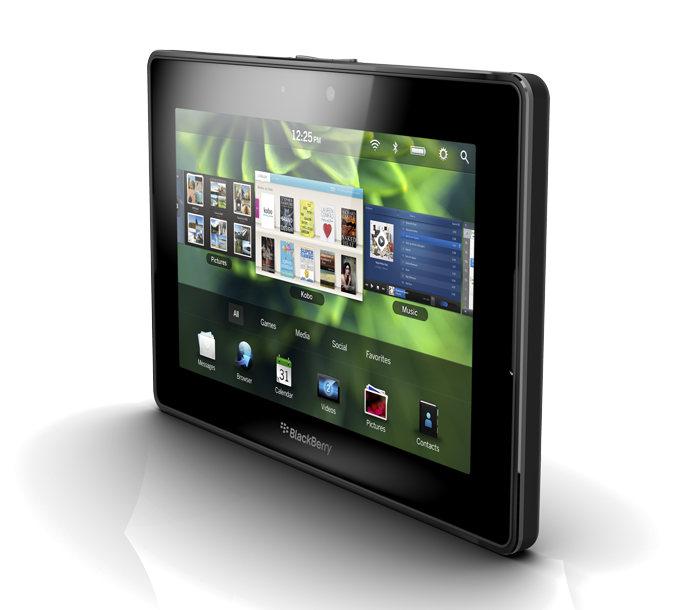 AppleInsider may earn an affiliate commission on purchases made through links on our site.
Ahead of the Apr. 19 launch of Research in Motion's BlackBerry PlayBook, the first reviews have appeared, with reviewers recommending that consumers hold off on purchasing the 7-inch tablet due to the "rushed to market" feel of the device.
RIM remains on track to release the PlayBook in Canada and the U.S. next Tuesday, Apr. 19. The Wi-fi tablet has been priced to compete directly with the iPad: $499 for the 16GB model, $599 for 32GB of storage and $699 for 64GB.
Though reviewers had several upbeat things to say about the PlayBook, they remained concerned about the tablet's overall finish. For instance, critical email and calendar apps, a must for a device that is touted as the "world's first professional-grade tablet," are notably missing.
Admittedly, the PlayBook is able to access email and calendar features either via a bridged connection with a BlackBerry smartphone or through web apps, but reviewers found the tethering requirement unwieldy and cumbersome.
Reviewers also took issue with the bugginess of the OS, the lack of cellular data and the scant selection of compatible apps.
Writing for the Times, David Pogue wrote that the tablet "looks and feels great," but struggles because too many features "live on in R.I.M.'s playbook — and not enough in its PlayBook."
The reviewer noted that the seven-inch form factor "has its virtues," but wished that the device had been designed to fit in the breast pocket of a jacket.
Pogue was impressed by three unique features of the PlayBook: HDMI Powerpoint presentations with a presenter screen, wireless music syncing and BlackBerry Bridge. Unlike the iPad, the PlayBook can send a PowerPoint presentation over HDMI while displaying notes and slide thumbnails on its screen.
After an initial USB setup, the PlayBook can receive music and photos wirelessly, even while in sleep mode. Pogue liked BlackBerry Bridge because tethering an internet connection is free, but the requirement felt like a crutch at times.
The PlayBook's QNX-based OS borrows liberally from iOS, Android and even webOS, Pogue noted. For example, just like the iPad, apps can be rearranged and removed by holding down one finger on an app icon until all icons begin to pulse.
Pogue lamented the lack of applications for the device, quipping that the PlayBook's motto should be, "There's no app for that." He was particularly surprised that the only way to do email, calendar, address book and BlackBerry Messenger on the PlayBook is by tethering to a BlackBerry phone.
"R.I.M. has just shipped a BlackBerry product that cannot do e-mail. It must be skating season in hell," Pogue wrote. RIM has promised those apps, as well as a slew of other missing features, such as 4G data, will be available this summer.
"Remember, the primary competition is an iPad — the same price, but much thinner, much bigger screen and a library of 300,000 apps," Pogue continued. "In that light, does it make sense to buy a fledgling tablet with no built-in e-mail or calendar, no cellular connection, no videochat, no Skype, no Notes app, no GPS app, no videochat, no Pandora radio and no Angry Birds?"
Noting that the prerelease software was buggy and the BlackBerry Bridge feature is still in beta testing, Pogue remarked that the PlayBook "may one day end up in the pantheon of greats," but not before RIM adds the missing features and builds a robust application ecosystem.
Walt Mossberg of the Journal liked the user interface of the PlayBook, but remained unable to recommend it over a standalone tablet, except "for folks whose BlackBerrys never leave their sides."
Mossberg also criticized the lack of critical email, calendar, contact and chat apps, diagnosing the PlayBook as "a tablet with a case of codependency."
"In my view, even though Bridge is a neat technical feat, it makes the PlayBook a companion to a BlackBerry phone rather than a fully independent device," wrote Mossberg.
The reviewer also hesitated to recommend the tablet because it will launch with just 3,000 apps designed for tablets, compared with the 65,000 tablet-optimized apps available to the iPad on Apple's App Store.
Though RIM confirmed last month that it is working on an emulator for Android OS 2.3 apps, that feature is still in development and was not made available to advance reviewers.
Mossberg did praise the PlayBook for rendering Adobe Flash content "far better than any Android device" he has tested. "I couldn't find a Flash video the PlayBook couldn't handle, and it even breezed through a site written entirely in Flash, which other Flash-capable mobile devices couldn't," he wrote.
Battery life is also a concern for Mossberg. With screen brightness at 75 percent and Wi-Fi on, Mossberg was only able to get 5 hours of battery life while continuously playing a movie.
Late last year, one analyst suggested that industry sources had told him RIM engineers were struggling to get the PlayBook battery to last longer than just a "few hours." RIM immediately denied the claim, promising "superior performance with comparable battery life."
Ultimately, Mossberg, like Pogue, advised interested customers to take a wait-and-see approach to the PlayBook. "I recommend waiting on the PlayBook until more independently usable versions with the promised additions are available," he concluded.
"This isn't quite hell freezing over, but it's close: The makers of the BlackBerry have come out with something you might love," wrote Rich Jaroslovsky for Bloomberg.
RIM desperately needs the PlayBook to be a success, said Jaroslovsky, adding that "it deserves to be, once the software catches up to the hardware."
However, Jaroslovsky was hesitant to compare the PlayBook to the iPad, which sports a screen more than twice the size of the PlayBook, instead comparing it to Samsung's Galaxy Tab and Dell's Streak 7.
Jaroslovsky called the 7-inch tablet form factor "good-sized pocket"-sized. "In that realm, the BlackBerry instantly raises the bar," he said.
Though Jaroslovsky did not perform any specific battery tests, he noted that the battery still had "plenty of juice left" after more than two days of normal use.
Freed of the overshadowing comparison of the iPad, the PlayBook impressed Jaroslovsky, but the main drawback was that the PlayBook feels, and is, unfinished.
"Still, who would have thought that the maker of some of the world's least exciting smartphones would have produced a product this slick?" Jaroslovsky concluded. "The PlayBook makes BlackBerry relevant again."
"I've been testing PlayBook for about a week, and for the most part like it a lot, though the not-quite-final software in my evaluation unit got a little cranky at times," said USA Today's Edward Baig.
Baig missed the selection of apps available on the iPad, but noted that it's "a big deal" to have the ability to play Adobe Flash content.
Regarding the Playbook's 5-megapixel rear-facing and 3-megapixel front-facing cameras, Baig wrote that neither one shot great in low light and the tablet presented "momentary shutter lag" when taking still photos.
The reviewer also experienced several crashes, especially in the web browser and with the Kobo Books app.
Baig concluded that the PlayBook is "a good-looking and solid newcomer," especially for BlackBerry fans, while questioning whether it will succeed at taking market share from Apple's iPad.
According to Associated Press technology writer Rachel Metz, BlackBerry PlayBook has two out of three things needed to compete with Apple's iPad: "a gorgeous, easy-to-use device that people will love, a bustling app store and an attractive price tag."
Metz found the PlayBook "a pleasure to navigate and filled with cool features" and competitive on price with the iPad, while noting that it "isn't much of a competitor on the app front."
With respect to battery life, Metz got about six hours of use on a single charge while performing various tasks, including surfing the Web, streaming Internet radio, checking emails and streaming videos.
The reviewer noted the interface as "delightfully easy and fast" with responsive touch controls. However, she did notice a "few annoying quirks: For example, the PlayBook took a long time when scrolling through long documents or Web pages."
To sum up, Metz called the PlayBook an "impressive tablet - it has to be, considering the iPad's head start," adding that if RIM can "ramp up its app offerings, it will be an even heartier contender."