Sources: Apple utilizing 'iCloud' internally, service to be more than music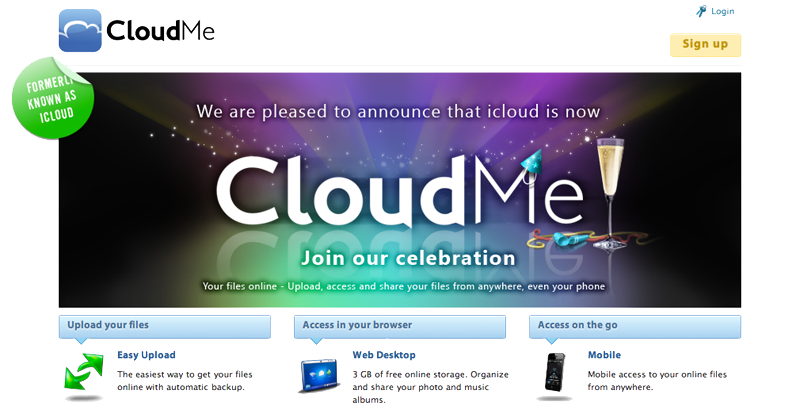 Apple has begun adopting the "iCloud" name within several products currently under development, suggesting the appropriately labeled moniker is indeed the frontrunner for the company's soon-to-debut Internet cloud service, which will span beyond streaming music, AppleInsider has learned.
According to people familiar with the matter, Apple is prepping beta versions of both iOS 5.0 and Mac OS X Lion ahead of its annual developers conference that integrate with a service dubbed "iCloud," enabling users to sync and store much of the same information they currently can with the company's existing MobileMe service, such as bookmarks, email, contacts and iCal events.
With Apple promising to "unveil the future of iOS and Mac OS" at its Worldwide Developers Conference in five weeks, it's increasingly likely the Cupertino-based company will use the forum to divulge its plans for iCloud and provide its Mac and iOS developer communities with tools they can be used to leverage the new cloud service from within their applications.
Word that Apple is making active use of the name in future versions of its operating systems comes just one day after GigaOm's Om Malik cited sources as saying that the iPhone maker this month acquired the iCloud.com domain name for an estimated $4.5 million from Sweden-based desktop-as-a-service company, Xcerion. Conspicuously, Xcerion's existing iCloud service was just rebranded to CloudMe, with the company purchasing the CloudMe.com domain on April 5, 2011.
To date, much of the focus on Apple's rumored iCloud service has revolved around streaming music to mobile devices like iPhones and iPads. Recent reports have stated that Apple has completed work on its music streaming product, and has even signed at least two major record labels for the rights to stream copyrighted content to users.
But evidence seen by AppleInsider suggests the service will go beyond music, and could be the central component of a revamped Apple's existing MobileMe service. To this end, reports dating back to February characterized Apple's plans future internet service plans as including a digital "locker" that would hold all of a users personal memorabilia, including photos, music and videos. That would negate the need for future Apple mobile devices like an iPhone to have a great deal of internal and costly flash memory storage.
Apple is also said to have been toying with the idea of making its enhanced MobileMe a free service that would further tie users into the Apple ecosystem and drive sales of the company's profitable hardware device. And while the music streaming component of the service could potentially be included free at first, at least some features of the music service would eventually require a fee, music industry insiders have said.
Currently, Apple's $99-per-year MobileMe service offers users 20GB of cloud-based storage, for both uploaded files and e-mails. But Apple has recently made it difficult for consumers to purchase new MobileMe subscriptions, further hinting that the company plans to implement radical changes to the service sooner rather than later.
But with fifth-generation iPhones reportedly not in the cards until later than usual this year, the new cloud service from Apple may not debut in earnest until the formal release of iOS 5, the next major iPhone operating system update. Reports suggest that iOS 5 will arrive alongside the anticipated "iPhone 5" this fall, bringing cloud services integrated into Apple's mobile operating system.
By introducing an iCloud service to developers this spring alongside pre-release versions of Mac OS X and iOS, Apple would afford itself ample time to test and stabilize the technology, which is likely to go a long way towards helping the company avoid a humiliating high-tech meltdown, like the one that recently hit Amazon's EC2 cloud service, crippling the services of its partners along the way.
For Apple, a move away from MobileMe and towards iCloud would mark the third time the company has completely overhauled its suite of Internet services. Initially dubbed iTools before being rebranded .Mac and targeted at the company's computer install base, the service was revamped and renamed again as MobileMe alongside the release of the iPhone 3G in 2008, introducing push email, push contacts and push calendars to its existing suite of web apps.
Apple's grand plans for iCloud are also believed to be rooted in its massive data center in Maiden, N.C., which is also conveniently slated to go online this spring after nearly two years of preparations. Apple executives have already gone on record as stating that the facility was conceived to support the future of both its iTunes and MobileMe services, which will soon interface with iCloud.
The $1 billion, 500,000 square-foot facility is five times larger than the company's current data center in Newark, Calif.