Microsoft aims to woo developers to Windows Phone with iOS porting tool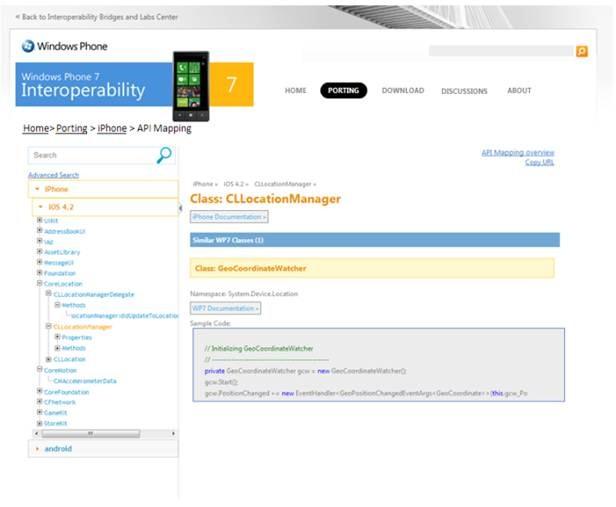 AppleInsider may earn an affiliate commission on purchases made through links on our site.
In a bid to attract developers from Apple's ecosystem, Microsoft has released an iOS to Windows Phone 7 API mapping tool meant to help developers port their iPhone apps to the Windows Phone platform.
Jean-Cristophe Cimetiere, Microsoft's Senior Technical Evangelist for Interoperability, unveiled the porting tool in a post to the Windows Team blog last week. The tool comes as part of a interoperability package designed to help iOS developers "leverage [their] iPhone development expertise to build Windows Phone 7 applications."
In addition to the API mapping tool, the package includes a 90+ page guide to Windows Phone 7 for iPhone developers, a series of "developer stories," in which developers share their experiences porting iPhone apps to Windows Phone, and "a compilation of the key resources" needed to get started.
Cimetiere compared the API mapping tool to a "translation dictionary" that meets basic communication needs for tourists on a vacation to France.
"With this tool, iPhone developers can grab their apps, pick out the iOS API calls, and quickly look up the equivalent classes, methods and notification events in WP7," he wrote.
According to Cimetiere, using the tool to search for a given API call will provide the "equivalent WP7 along with C# sample codes and API documentations for both platforms. The code samples allow developers to quickly migrate short blobs of iOS code to the equivalent C# code."
Not every API call is covered by the tool, however. For the time being, Microsoft has chosen to focus on the following categories: Network / Internet, User Interface and Data Management.
Currently, the tool is limited to one-to-one mapping, but following versions will expand in scope to provide "appropriate guidance" for similar concepts. Developers are encouraged to provide feedback and suggest new mapping tools.
Cimetiere also noted that a similar tool is being planned for porting applications from Google Android.
Microsoft has invested substantial resources in drumming up support for Windows Phone 7, which has struggled to gain traction since it launched last fall. Last year, iOS developers reported that the Redmond, Wash., software giant had offered them upfront cash to port their games to Windows Phone 7.
Some Windows Phone 7 developers expressed doubts last year about the platform's future, voicing concerns whether sales figures would generate enough revenue to offset development costs. Microsoft revealed last month that of the 36,000 registered developers for the platform, only 40 percent have already published an app.
Apple recently surpassed Microsoft in terms of quarterly sales and profits for the first time in twenty years. While the Windows giant has been unable to repeat its success with the PC in the burgeoning mobile space, Apple has enjoyed astronomic growth, largely due to profits from the iPhone and iPad.