US senators grill AT&T, T-Mobile execs over acquisition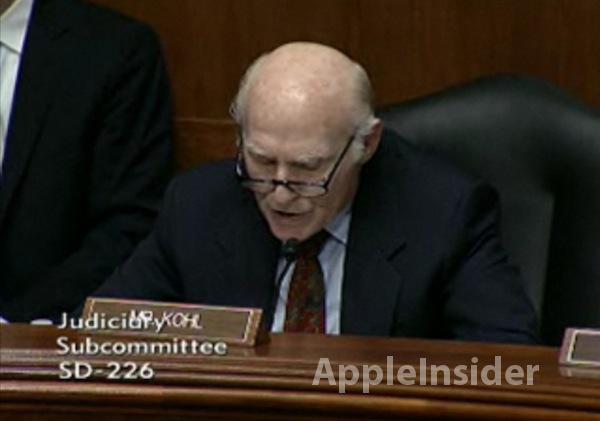 AppleInsider may earn an affiliate commission on purchases made through links on our site.
U.S. senators remained skeptical of the benefits of AT&T's proposed acquisition of T-Mobile USA as they questioned the companies' CEOs at a Senate Judiciary subcommittee hearing on Tuesday.
On the heels of yesterday's Senate hearing that called Apple and Google as witnesses over privacy concerns, the Senate held a hearing to discuss the $39 billion deal between AT&T and T-Mobile. AT&T announced in March that it had reached an agreement to acquire T-Mobile USA from Deutsche Telekom.
Sen. Herb Kohl, D-Wisconsin, opened the hearing with concerns that the merger would give AT&T too large of a chunk of the market, according to This is my next's live blog of the discussion.
"Four competitors are better than three," said Kohl, while suggesting that AT&T spend some of the money from the acquisition for network improvements instead. From the outset, Kohl indicated the senate's skeptical position, noting that "the burden will squarely fall on ATT and T-Mobile to convince us."
One of the primary issues raised during the hearing was whether the deal would expand rural coverage and the fate of regional carriers. Sen. Michael Lee, R-Utah, posited as a roadblock to competition the risk that "regional carriers may not be able to compete for devices like the iPhone."
Lawmakers also drew parallels between the AT&T/T-Mobile deal and the Verizon/Alltel merger that boosted Verizon to the top spot among U.S. carriers. At the time, AT&T purchased 18 of the 24 markets Verizon was required as part of the terms of the deal.
Randall Stephenson, president and CEO of AT&T, Phillpp Humm, President and CEO of T-Mobile, Dan Hesse, CEO of Sprint, Victor Meena, President and CEO of Cellular South, Gigi Sohn, President of Public Knowledge, and Larry Cohen, President of the Communications Workers of America.
AT&T CEO Randall Stephenson began his testimony by framing the acquisition as necessary because of skyrocketing data traffic, driven largely by the iPhone, which has been called the "hummer" of cellphones because of bandwidth needs. Since the arrival of the iPhone in 2007, AT&T's data volumes have shot up 8000 percent.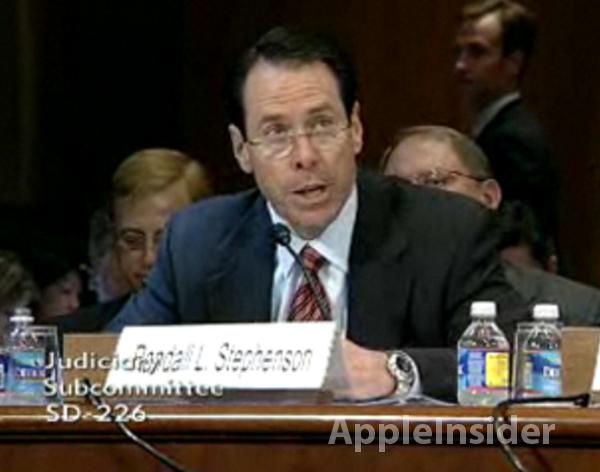 "To meet growing demand, we have to find ways to get more capacity from the existing spectrum, which this merger will do. More capacity means fewer dropped call and better and faster internet," said Stephenson. AT&T has been roundly criticized by customers in the past for dropped calls, especially in urban areas.
Stephenson argued that the competitive nature of the wireless industry will continue to drive price cuts, even with the removal of a major competitor. Since the launch of the iPhone, the price for a megabyte of data has come down 90 percent, he said.
When asked by Sen. Amy Klobuchar, D-Minnesota, whether AT&T customers would have access to T-Mobile's pricing, Stephenson said that if AT&T customers customers had wanted T-Mobile's pricing, they "could have gone to T-Mobile." Klobuchar had previously called for Department of Justice and Federal Communications Commission investigations into the acquisition.
"We sell a $300 iPhone for $50 — we'll ask customers to honor their contracts," he added.
T-Mobile USA CEO Phillipp Humm told senators that T-Mobile lacks the spectrum needed to transition to LTE and parent company Deutsche Telekom is "not in the position to finance additional spectrum."
Humm detailed four major benefits for T-Mobile customers from the deal: access to AT&T's 750MHz spectrum will improve in-building coverage; the combined company will have better coverage and fewer dropped calls; 4G LTE will reach 97 percent of the population; costs will be reduced, which will drive prices down.
Stephenson and Humm drew criticism from the senators for suggesting that AT&T and T-Mobile are not direct competitors. "Come on. You guys are major competitors. Please," said Kohl after Stephenson hedged that the companies merely "exist in a competitive ecosystem."
Kohl also found AT&T's suggestion that the deal be approached from the local level "laughable, seeing as that's the opposite of how AT&T asked us to view other mergers."
Rival Sprint CEO Dan Hesse was also in attendance. "Creating an entrenched, integrated duopoly will stifle competition…AT&T's takeover of T-Mobile will turn back the clock on wireless innovation," said Hesse. Sprint has been vocal in its opposition of the deal.
"We ask you to just say no to this takeover," said Hesse, while calling AT&T and Verizon "the Twin Bells."
When pressed by senators as to Sprint's likelihood of survival after the AT&T/T-Mobile merger, Hesse painted a grim picture. "My position is that it would more difficult for Sprint to compete. This would be a duopoly, and it would put Sprint to be acquired," said Hesse.
AT&T reportedly faces a "steep climb" ahead in getting regulatory approval, according to an official at the FCC. T-Mobile has said that customers shouldn't expect the deal to go through for at least one year.