AT&T customers claim most dropped calls, least satisfaction [u]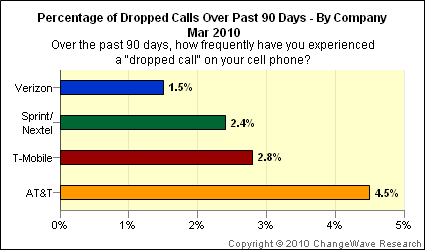 Despite billions of dollars invested in its network in the last year, a new survey has found that AT&T customers report the most dropped calls of any U.S. carrier, and those users are also the least satisfied with their service. (Update: AT&T has responded to the survey findings, as noted below).
ChangeWave Research this week released data from a March survey of 4,040 smartphone subscribers. The results found that AT&T customers reported an average estimate of 4.5 percent of calls were dropped in the last three months. That was the worst of the four major U.S. carriers, and three times worse than rival Verizon, which saw an average call drop estimate of 1.5 percent. AT&T is the exclusive carrier of Apple's iPhone in the U.S.
"AT&T was clearly the worst in the March survey, tacking on yet another increase over the latest ChangeWave research survey," the study concluded. "Furthermore, a closer look at the trends show an increasing number of dropped calls among AT&T customers surveyed, and a steadily decreasing number of dropped calls for Verizon customers."
The two companies were much closer in a poll conducted in Sept. 2008, when 3.6 percent of AT&T calls were reported dropped, compared to 2.7 percent of Verizon calls.
Unsurprisingly, reports of dropped calls correspond strongly with customer satisfaction with their service. While just 23 percent of polled AT&T customers said they are "very satisfied" with their provider, ChangeWave found that 49 percent of Verizon customers considered themselves "very satisfied."
The survey contrasts a study released in February, which found that AT&T had undergone a "drastic makeover" over the span of eight months, improving its 3G network speed by 84 percent. That test, conducted in 13 cities across the country, found that AT&T's network was 94 percent reliable — the best among its competitors.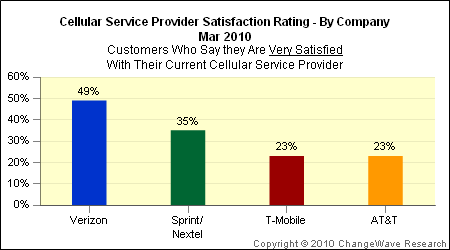 In the summer of 2009, the launch of the iPhone 3GS placed a significant strain on AT&T's network, particularly in large cities such as New York and San Francisco. The issue was so serious that the company admitted its shortcomings and vowed to make improvements and do better. The company made significant investments to improve its reception in major metropolitan areas, with billions of dollars in investments. But public perception of the company has continued to struggle, and AT&T has attempted to overcome it with a new ad campaign that has rebranded the wireless carrier with the slogan "Rethink Possible."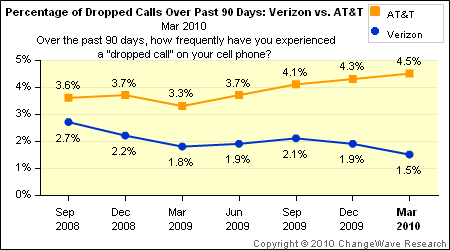 While AT&T has made efforts to improve its network, Apple has also reportedly tweaked the iPhone to lessen its strain on 3G data networks. The improvements came about from meetings between Apple's designers and AT&T executives.
Apple's exclusive contract with AT&T for the iPhone is expected to expire this summer. But talk of the handset becoming available on other carriers cooled earlier this year, when Apple executives defended AT&T, and the iPad was announced as compatible only with AT&T's 3G network in the U.S.
But in March, The Wall Street Journal reported that Apple is currently working on a CDMA-capable iPhone that could run on the Verizon network. Such a device would not likely arrive this summer, when the next-generation iPhone is expected to go on sale, as the Journal reported that manufacturing of the CDMA model is not expected to begin until September.
AT&T responds to satisfaction report
AT&T has issued an official response to the survey, saying, "the opinions compiled in this survey are dramatically at odds with actual quantitative results derived from millions of calls made during extensive drive-testing of the AT&T mobile broadband network by a highly respected outside firm.
"Those results, from GWS, show that, on a national basis, AT&T is within just two-tenths of a percent of the industry leader in wireless call retainability. That's a difference of just two calls in a thousand, a virtual dead-heat.
"In fact, the statistically valid drive test shows the AT&T network continues to deliver the nation's fastest 3G network and near best-in-class call retainability nationwide. AT&T's network dropped only 1.44 percent of calls nationwide, within two-tenths of 1 percent of the industry leader and a difference of less than two calls out of 1,000."