Thunderbolt trademark rights will be transferred from Apple to Intel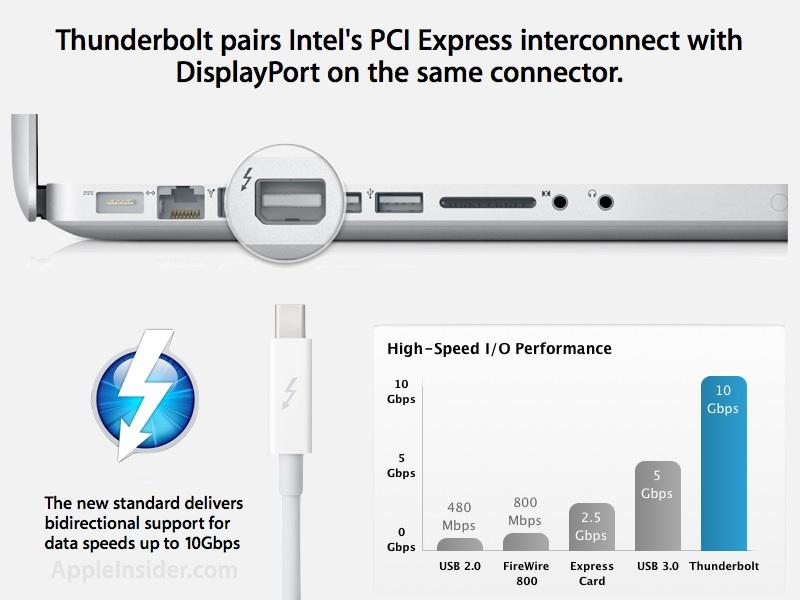 Though Apple originally filed for ownership of the "Thunderbolt" trademark associated with its new high-speed data port, the rights will be transferred to Intel, the company with which it cooperatively developed the new standard.
Intel said that though Apple filed for the original trademark, the Mac maker is currently in the process of transferring the rights to chipmaker Intel, according to Bright Side of News. The report also noted that Apple "will continue to have unrestricted use of the technology."
"As part of our collaboration with Apple, they did some of the initial trademark filings," Intel Senior Communications Manager Dave Salvator reportedly said. "Intel has full rights to the Thunderbolt trademark now and into the future. The Thunderbolt name will be used going forward on all platforms, irrespective of operating system."
The news comes as PC maker Sony has revealed plans to adopt Thunderbolt technology, but with a standard USB connector instead of the DisplayPort connector utilized by Apple. The report noted that it's likely that Sony's utilization could be rebranded, much as its version of FireWire became dubbed i.LINK.
Earlier this week, it was revealed that it was Apple who filed for the trademark associated with Thunderbolt high-speed input/output technology. The filing took place in both U.S. and Canadian trademark offices, and made no mention of Intel.
Intel originally codenamed the technology "Light Peak, but decided on the Thunderbolt moniker during the development process. Apple contributed to the development by including the mini DisplayPort standard and an "electrical solution" that changed the original optical cables to copper to provide power.
Apple introduced Thunderbolt in its refreshed lineup of MacBook Pros earlier this year. And earlier this month, Thunderbolt also came to Apple's new iMacs.
While Apple is expected to quickly bring Thunderbolt technology to the rest of its Mac lineup, and Sony plans to implement its own unique take, other companies have been less sold on the technology. This week, an executive with PC maker Hewlett-Packard said that the company has decided for now to stick with USB 3.0 for its next-generation high-speed I/O technology.
Intel has said it views USB 3.0 and Thunderbolt as "complementary" to one another. The chipmaker has also encouraged developers to support both the Thunderbolt and USB 3.0 standards with any external peripherals. The 5Gbps transfer speeds of USB 3.0 are half as fast as the 10Gbps throughput of Thunderbolt.