Briefly: iTunes in the Cloud held up in UK; iPhone in space; Android messaging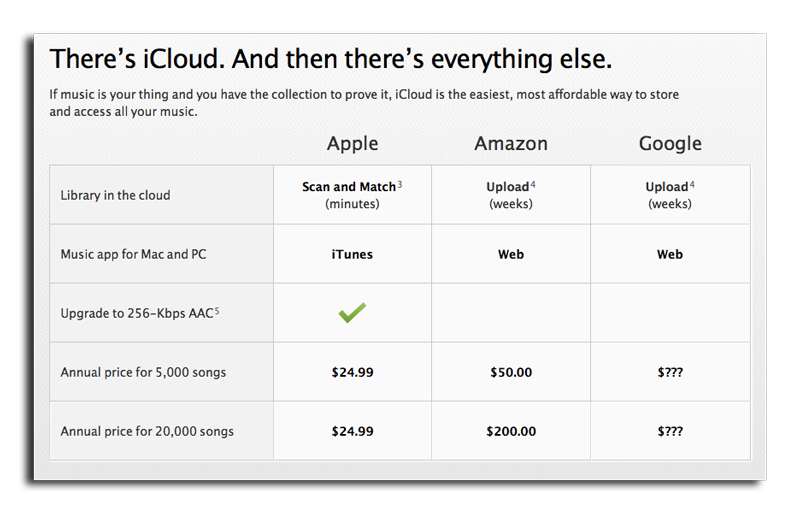 AppleInsider may earn an affiliate commission on purchases made through links on our site.
The music portion of Apple's new iCloud has reportedly been delayed in the U.K. as the company negotiates with rights holders. Meanwhile, the iPhone is going to sent into space for to for a series of diagnostic experiments. Also, a new report claims Google is working on a rival messaging service to the recently announced iMessage feature in iOS 5.
The Telegraph reported Thursday that the music storage part of Apple's iCloud, which launches in the U.S. this fall, won't arrive in the U.K. until the first quarter of 2012 at the earliest.
According to a spokesman for the Performing Right Society, negotiations with Apple have not gone far. "The licensing team at the PRS have started talks with Apple, but are a long way off from any deals being signed…It is very much the early stages of the negotiations and is similar to the launch of iTunes – which began in the US and took a while to roll out to other countries," he said.
A music executive at a major record label corroborated the PRS spokesman's comments, noting that "tentative talks" have begun between Apple and the labels, but "no one expects to see the cloud music service live on this side of the pond until 2012."
Prior to Apple's formal unveiling of iCloud, a number of music industry insiders indicated that Apple was in negotiations with the major U.S. music labels. According to sources, Apple didn't finalize negotiations with Universal Music Group until last Thursday, just days before a keynote announcing the service. The Cupertino, Calif., company may have paid as much as $150 million in "advanced payments" to get the service off the ground.
Apple's iTunes in the Cloud feature stores all previously purchased iTunes music for users to download to their devices. The new iTunes Match service, which will cost $24.99 a year when it launches this fall, will scan a user's music library and mirror songs that match iTunes Store offerings in the cloud.
Apple's iPhone will make its first trip into space aboard the final flight of the Atlantis Space Shuttle on July 8, 2011, as noted by TUAW. A set of iPhone 4s will hitch a ride on the Atlantis and spend several months on the International Space Station before returning home on the Russian Soyuz.
In total, four experiments will be performed while the iPhones are in space. Limb Tracker will measure altitude above the Earth's surface by measuring the curvature of the Earth's limb. Sensor Calibration will combine photos of a QR barcode with accelerometer and gyro measurements in order to calibrate sensors for future flights. State Acquisition will match up photos from space with a coastline model to estimate latitude and longitude. Finally, Lifecycle Flight Instrumentation will collect data on how space flight affects the iPhone hardware.
A $0.99 simulated version of the app is available on iTunes for interested users. Developed by Odyssey Space Research, the "SpaceLab for iOS" app is identical to the one loaded on the iPhones headed to space, though not all of the experiments will produce results while on the ground.
"I'm pretty sure this is the very first iPhone to go into space," said Odyssey Space Research CEO Brian Rishikof.
After Apple announced a new iMessage feature in iOS 5 on Monday, several reports suggested this week that carriers were caught off guard by the revelation. iMessage will allow users of iOS devices, including the iPad and the iPod touch, to send text, photos, videos, locations and contacts to each other over Wi-Fi or 3G.
Wireless operators may have even further cause for concern, as Google is reportedly working on a competing messaging application for its Android mobile operating system, The Wall Street Journal reports.
According to wireless industry trade group CTIA, U.S. cellphone users sent 1 trillion texts in the second half of 2010, up 8.7 percent from the first half of last year. Revenue from text messages reached $25 billion in the U.S. and Canada last year, the report noted. In addition to jeopardizing SMS revenues of wireless carriers, iMessage could also pose a threat to Research in Motion, which operates a proprietary BlackBerry Messenger service for its smartphones.
Analysts were generally positive about Apple's software-related announcements on Monday and expect new features such as iCloud and iMessage to drive sales of iOS devices and increase the "stickiness" of the platform. iOS 5 includes 200 new user features and will be offered as a free update this fall.