Early Thunderbolt tests find blazing speeds with bootable external drives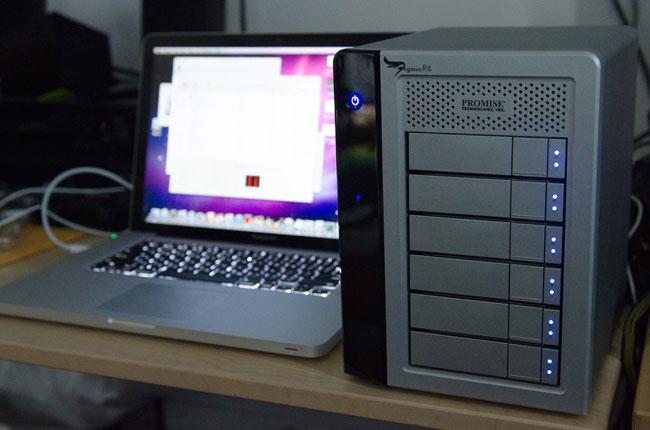 AppleInsider may earn an affiliate commission on purchases made through links on our site.
Newly published results show Apple's newly adopted Thunderbolt technology blows FireWire 800 out of the water with data transfer speeds to an external RAID system at 700MB/s.
After the release of Apple's Thunderbolt cable on Tuesday, early impressions have begun to surface on the Web. AnandTech got their hands on both the $49 cable and the $1,999 Promise Pegasus R6 system and have subsequently stated that they are able to write to the 12TB RAID array at nearly 700MB/s while on a notebook. The speed obliterated that of the commonplace USB 2.0, as well as FireWire 800.
And in his testing, Anand Shimpi also revealed on his Twitter account that external drives can be booted from via Thunderbolt. This makes it possible to have a full install of OS X, which includes all your files and apps, stored on a Thunderbolt external drive. This in turn would allow you to take your computer everywhere you go, and run it on another Thunderbolt-equipped Mac.
Macworld also received the new cable with the same RAID system, and their detailed results show Thunderbolt is between 4 and 21 times faster than FireWire & USB 2.0. When compared to both on a 2.2GHz Core i5 Macbook Pro, Thunderbolt could write a 2GB file at 210.5 MBps.
On the other hand, USB 2.0 could only stretch to 29.7 MBps, a result that is 7.09 times slower. FireWire 400 could write the file at 30.2MBps, 6.97 times slower & FireWire 800 wrote the file at 47MBps, or 4.47 times slower.
Also Tuesday, Apple issued a series of 10 questions and answers related to Thunderbolt. Most of the information presented was already announced, like the fact that the cable offers two independent channels of 10GBit/s.
One new bit of information from the series of answers is a possible drawback for high-end Macbook Pro users: A PCI Express Card in the Express Card slot cannot be operated if the system is connected to a Thunderbolt device. Apple recommends disconnecting the device if you are going to use the Express Slot.
The full list of info is included below:
1. What is the maximum bandwidth supported by Thunderbolt to Thunderbolt cable (2 m)?
Thunderbolt utilizes two separate 10Gbps links—one for displays and one for PCI-E device trafffic—for throughput of up to 10 Gbps between Thunderbolt capable devices and your Mac. Some devices not made by Apple may support different bandwidth rates; consult any documentation that came with your Thunderbolt-enabled device for information specific to your device. Choose the Disk Activity tab in Activity Monitor to read current disk activity statistics, which may be helpful to determine disk activity with storage devices using Thunderbolt. Some storage devices may have a maximum transfer rate lower than the bandwidth potential of Thunderbolt.
2. What is the proper way to insert a Thunderbolt cable into my Thunderbolt-capable device or Mac?
The Thunderbolt symbol should be on the top of the connector. You can plug either end of the cable into a device or Mac; the connectors on each end are the same. Do not force the Thunderbolt cable into your Thunderbolt-capable device or Mac computer's Thunderbolt port.
3. How do I confirm a Thunderbolt-enabled device is connected to a Mac?
Open System Profiler and examine the Thunderbolt tab for a list of any connected Thunderbolt devices.
4. Can I use a Thunderbolt cable to connect a Promise, La Cie, or other third-party storage device that uses Thunderbolt?
Yes. You can use a Thunderbolt cable to connect any Thunderbolt-enabled device or Mac.
5. Is there a maximum supported length for using Thunderbolt cables with Apple products?
Thunderbolt cables should not exceed two meters for maximum performance. Apple Thunderbolt to Thunderbolt cable (2 m) is two meters in length. Some Thunderbolt devices include an extra port you can use to connect other Thunderbolt devices downstream with additional Thunderbolt cables.
6. Why is there a black screen when I use a Thunderbolt cable to connect to an Intel-based iMac that supports Target Display Mode?
Although a Thunderbolt cable will fit into Mini DisplayPort connections, only Mini DisplayPort cables can be used to in Target Display Mode with an iMac (Late 2009) or iMac (Mid 2010) connected to a Thunderbolt-enabled Mac; iMac models produced before 2011 do not support Thunderbolt cables or devices. If you have an iMac (Late 2009), make sure you have the 27-inch SMC iMac Firmware Update 1.0 installed to avoid issues waking from sleep in Target Display Mode.
7. What do I do if my Mac doesn't have a Thunderbolt option in System Profiler and no connected devices seem to be recognized?
For Mac computers with Thunderbolt, run Software Update to install any available updates to use Thunderbolt devices with your Mac.
8. I've installed all available updates, but no Thunderbolt devices are recognized when I connect them with Thunderbolt to Thunderbolt cable (2 m).
Try using a different a Thunderbolt cable, using a Mini DisplayPort cable, or—in the case of a storage device—try using another supported connection method, such as USB or FireWire.
9. Can I use Target Disk Mode with a Thunderbolt to Thunderbolt cable (2 m) and a third-party storage device that uses Thunderbolt?
Yes. The Thunderbolt logo should appear with the FireWire logo when you start up a Thunderbolt-enabled Mac and have a Thunderbolt storage device connected. If you have both a Thunderbolt and a FireWire storage device connected and enter Target Disk More, the Thunderbolt-enabled device will be the default. If you disconnect either a Thunderbolt or FireWire storage device after successfully entering Target Disk Mode, the corresponding icon should disappear from the display.
10. Can I use Thunderbolt to Thunderbolt cable (2 m) with supported versions of Microsoft Windows on a Thunderbolt-capable Mac with Boot Camp?