Supply of Apple's white MacBook severely constrained ahead of Lion debut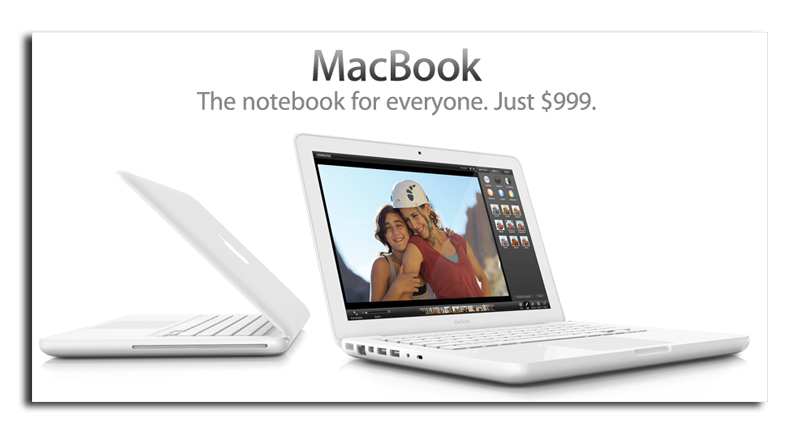 Availability of Apple's current $999 white MacBook, built with hardware that is now getting long in the tooth, has become constrained, potentially signaling a forthcoming update to the entry-level notebook.
Many of the Apple authorized resellers that can be found on AppleInsider's Mac Pricing Guide are completely sold out of the polycarbonate MacBook. Specifically, Amazon, MacConnection, On Sale and J&R are all out of stock. In addition, inventory of the entry-level portable is low at DataVision.
In addition, one of Europe's largest distributors is completely out of stock of the white MacBook, and lists no estimated time of arrival for new shipments. Sources indicated that this is unusual, but not necessarily a sign that the current model will be discontinued.
AppleInsider has not received any specific word of a MacBook refresh, but the timing makes sense, as the polycarbonate MacBook was last updated more than a year ago, in May of 2010. The entry-level hardware was given GeForce 320M graphics and an Intel 2.4GHz Core 2 Duo processor.
The reduced availability could also be a result of a somewhat recent educational discount price drop, from $949 to $899.
Any new hardware that may be released is not expected to debut until after the launch of Mac OS X 10.7 Lion. As first reported by AppleInsider, Apple is expected to freeze all new Mac introductions until the release of its next-generation operating system.
A lot has changed in the Apple product lineup since the last MacBook refresh occurred. Namely, the company now offers a second notebook at the same $999 price point: the 11.6-inch MacBook Air released last October, which instantly found strong sales.
With the new MacBook Air occupying the $999 price slot with great success, it's possible that Apple could lower the price of its white MacBook. It's a strategy that has paid off for Apple in its iPhone business, where it has maintained high margins and achieved lower prices during tough economic times by selling last year's model.
Apple has also embraced Thunderbolt, a new high-speed data port that debuted in March with Apple's latest MacBook Pro models. Thunderbolt also came to the iMac in May, and Apple is expected to add the port to the rest of its Mac lineup as refreshes are rolled out.
Also due for an impending update is the aforementioned MacBook Air, which is expected to receive Intel's latest-generation Sandy Bridge processors and Thunderbolt support. The new notebooks are believed to currently be in production, but are also not expected to be released until after the launch of Mac OS X 10.7 Lion.
In addition, contrary to some recent reports, there is no indication that Mac mini inventory is currently constrained, according to distributors in both the U.S. and Europe.