Apple again rumored to grow iPad family with HD model and Pro apps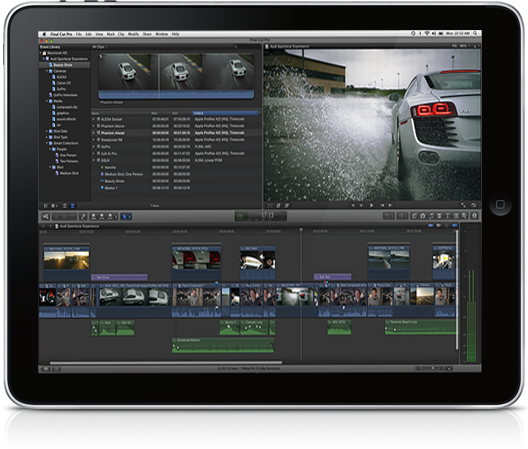 AppleInsider is supported by its audience and may earn commission as an Amazon Associate and affiliate partner on qualifying purchases. These affiliate partnerships do not influence our editorial content.
The on-again, off-again rumors of whether Apple plans to introduce a second iPad model during the 2011 calendar year received yet another twist this week, with an unverified report alleging the company may introduce a high-definition model and at least one "Pro app" this fall targeted at media professionals.
More specifically, the rumor floated by former Engadget editors and posted to their This is my next blog cites unnamed sources who claim an iPad with the much rumored double-screen resolution of 2048 x 1536 (1, 2) will debut as the "iPad HD" alongside the iPhone 5 this fall.
"The idea behind the product is apparently that it will be a 'pro' device aimed at a higher end market — folks who work in video and photo production possibly — and will be introduced alongside something like an iPad version of Final Cut or Aperture," the report speculates. "This product is specifically said to not be the iPad 3, rather a complimentary piece of the iPad 2 line. Think MacBook and MacBook Pro."
Such a move would presumably threaten to fragment both Apple's iOS device family and App Store in a manner the company has long strived to avoid in an effort to keep its mobile ecosystem simple and streamlined. Since the iPhone's inception, the company has committed to releasing a single iPhone model each year (with carrier and capacity options), and similarly one new iPad model each year.
Meanwhile, its App Store is broken down into the same two categories, apps for iPhones and apps for iPads. The latest rumor does not address whether the rumored Pro apps destined for the so-called iPad HD would be backwards compatible with traditional iPads, or restricted to the higher-end model. It also provides no color on why Apple would choose to fragment the iPad line with the addition of an HD display to one model in 2011 just months before introducing an entirely new family of iPads in early 2012 that could command the same treatment.
It should be noted that the sources attributed in the latest report have a mixed track record on future Apple products at best. For instance, they reported back in January that the iPad 2 would include the same illusive HD display, an SD Card slot and a dual GSM / CDMA chipset produced by Qualcomm — all of which were inaccurate. The screen on the iPad 2 largely mirrored that of the iPad 1, there was no SD Card slot and Apple used separate baseband chips in the CDMA and GSM iPad 2 — including an Infineon 337S3833 Baseband Processor in the GSM model.
However, those same sources did accurately predict that Apple would introduce a new streaming Apple TV last year priced at $99 and based around an A4 chip. But several other details in that report also turned out to be unsubstantiated, such as claims that the device would include 16GB of storage, support 1080p, and run Apple's traditional iOS.
As an aside, Thursday's rumor of an iPad HD was accompanied with claims that Apple's iPhone 5 will arrive in a slimmer, lighter form-factor than the iPhone 4. It states that reports over whether this year's handset will resemble an iPhone 4 or a completely new design have varied because Apple has been testing a more compact set of iPhone 5 internals inside existing iPhone 4 enclosures to mask them and the true identity of the iPhone 5 from the outside world.