Apple may begin to phase out legacy 13-inch white MacBook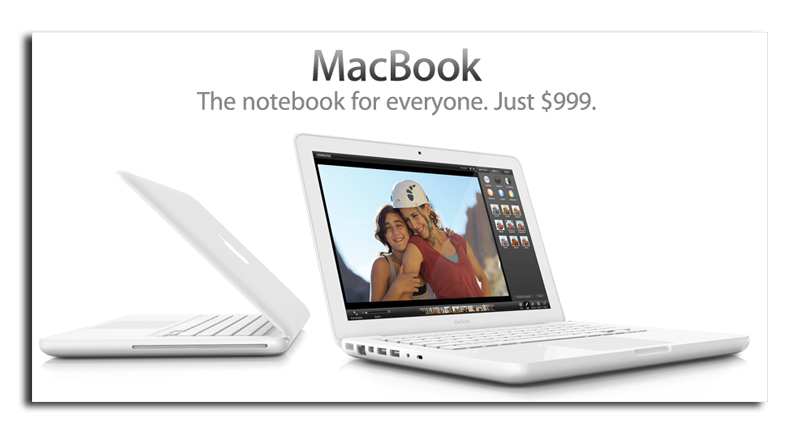 Apple's white polycarbonate MacBook, which has long served as the company's entry-level notebook, may be slowly phased out this year, according to one insider.
Analyst Ming-Chi Kuo of Concord Securities shared with AppleInsider Tuesday that industry checks show that Apple's internal shipment forecast for the white MacBook suspiciously drops-off in August of this year, which leads him to believe that the notebook may go "end of life" around the same time.
In his view, Apple's $999 MacBook Air is a more than suitable replacement for the identically priced white MacBook. An updated MacBook Air with 128GB minimum hard drive space is expected to see an introduction as early as Wednesday.
Kuo said that monthly shipments for the Core 2 Duo MacBook have fallen to between 80,000 and 100,000 units, and therefore comprised less than 10 percent of Apple's total Mac shipments during the first half of 2011. Though Apple continues to offer the yesteryear notebook as part of its Mac portfolio, this data indicates consumers are proactively choosing notebooks with the latest technology, like the new MacBook Airs or MacBook Pros.
While some industry-watchers believe the white MacBook could continue to serve as a low-cost, entry-level Mac with a price reduction (similar to what Apple has done with the iPhone 3GS), it's uncertain that the Cupertino-based company remains interested in continuing to market the hefty, previous-generation design alongside its sleek new Mac OS Lion operating system.
AppleInsider first revealed in late June that supply of the white MacBook was severely constrained. Weeks later, stock-outs remain at resellers like Amazon, where the notebook is advertised to ship within two to five weeks. However, that's the same lead time Amazon has reflected on an on-again, off-again basis for the past three weeks. In fact, just two of seven authorized resellers tracked in the Mac Pricing Guide (below) are reflecting availability.
The Intel-powered MacBook was first launched in May of 2006, replacing the PowerPC-based iBook and PowerBook. Sporting a 13-inch display, it originally came in both black and white flavors.
The notebook was redesigned in 2009, when it was given a unibody construction like the MacBook Pro. The new notebook was also given an LED-backlit display, integrated battery and multi-touch glass trackpad.
While the MacBook stood alone at the $999 price point among Apple's notebooks for years, that changed in 2010, when the MacBook Air was redesigned and expanded to include an 11-inch model. Upon its introduction, that $999 notebook saw strong sales as consumers took to the thin-and-light device.
Advantages for the current $999 MacBook Air over the existing MacBook include a unibody aluminum enclosure, and a thin-and-light design with fast and reliable solid-state flash memory storage. But the entry-level MacBook Air also has some disadvantages when compared to the white MacBook, namely a smaller 11-inch screen and fewer ports, including lack of Ethernet.