First look: Apple's new 11 and 13 inch Thunderbolt MacBook Air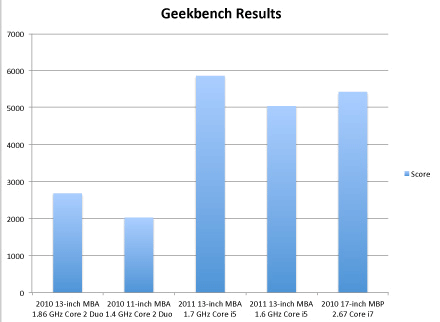 AppleInsider is supported by its audience and may earn commission as an Amazon Associate and affiliate partner on qualifying purchases. These affiliate partnerships do not influence our editorial content.
Apple's new Thunderbolt-enhanced, fourth generation MacBook Air models upgrade the company's light and thin notebook category with new high-speed connectivity; faster, more powerful Core i5 and i7 processors; faster RAM; larger SSD options, support for Bluetooth 4.0 and a new backlit keyboard.
The new Thunderbolt MacBook Air models now join Apple's MacBook Pro line in adopting Intel Core i5 and i7 processors rather than previous generations which used Core 2 Duo chips connected to a Nvidia-designed controller with integrated graphics. This shift, along with the faster 133MHz DDR3 RAM bus (up from 1066MHz DDR3 RAM in use on the Airs since late 2008) enables the new machines to hit benchmarks more than twice as fast as the previous generation.
The use of Intel's Core i5/i7 architecture also puts memory management and other features formerly handled by a separate Nvidia controller chip on the CPU itself, and necessitates that Apple use Intel's own integrated graphics. The new MacBook Airs both use Intel's HD Graphics 3000 chip using shared system RAM rather than the former Nvidia GeForce 320M with its 256 MB of dedicated DDR3 SDRAM on previous Core 2 Duo machines. AppleInsider will publish full graphics benchmarks in our complete review to determine how this architecture change affects performance.
Two other new embellishments to the MacBook Air line include its standard new backlit keyboard, which first appeared on the original MacBook Air but was dropped last year when the line plummeted from a ritzy priced ultralight notebook to being Apple's entry level notebook starting at just $999. The latest models retain the same lower pricing but add back the backlit keyboard feature.
The other feature is new to the MacBook Air and Apple's Mac product line in general: Bluetooth 4.0, which debuted on the Air and the simultaneously released Mac mini. Bluetooth 4.0 replaces "Bluetooth 2.1 + EDR," adding support for new very low energy devices that are designed to run from a small battery.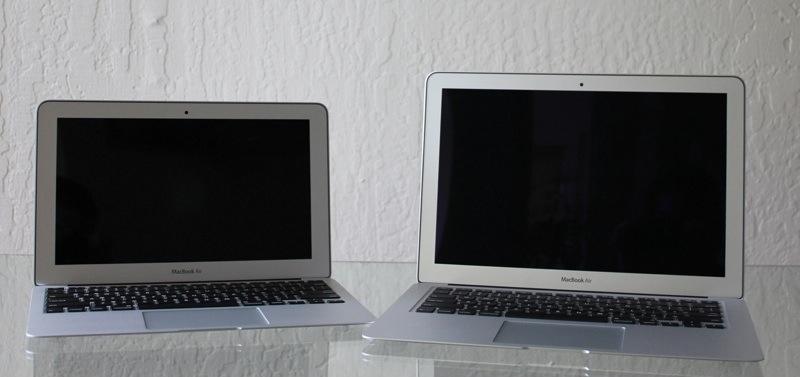 On page 2 of 3: Expanded options.
In other respects, the 11 and 13 inch MacBook Air models haven't changed a lot, with the lighter, smaller model offering a few weaker aspects than its larger 13 inch sibling: a slightly slower CPU, smaller SSD options, and a lower resolution screen. However, the 11 inch model packs a resolution that is roughly the same as the existing 13 inch MacBook and MacBook Pro: 1366x768 vs their conventional "13 inch resolution" of 1280x800. Additionally, Apple now lets users who opt for the smaller form factor to select custom options that provide the same high end Core i7 processor, 4GB of RAM, and 256GB SSD options available for the larger 13 inch model. Last year, the 11 inch Air was limited to a lower speed CPU and maxed out at a 128 GB SSD, forcing buyers to choose between performance and size.
The 13 inch model still exclusively offers a larger screen of course, boasting a "15 inch resolution" of 1440x900, the same as the 15 inch MacBook Pro, packed into its 13.3 inch display (although the latest 15 inch MacBook Pro now offers a higher resolution, 1680x1050 option).
This makes the 13 inch MacBook Air very competitive with the entry level MacBook and 13" MacBook Pro and a good general purpose notebook machine, although it lacks fast Ethernet (it's intended primarily for use on wireless networks, and uses the same, separately sold 10/100 Ethernet dongle as the previous MacBook Air).
Both Airs also have no FireWire, no optical drive, supply less disk storage (due to exclusively using a fast SSD) and RAM (many Air models ship with a paltry 2GB, and they can only be upgraded as a build to order option for a max of 4GB; you can't add RAM after your initial purchase, as the memory chips are soldered into the logic board. Most other MacBook models can now accommodate a max of 8GB.)
However, with Apple's new adoption of Intel's Thunderbolt technology, which essentially makes a processor-direct PCI Express interface available externally, MacBook Air users can now plug their light, highly mobile notebooks into a device like the company's new Thunderbolt Display, which provides additional USB, Firewire, Thunderbolt and Gigabit Ethernet ports via a single Thunderbolt connection to the notebook. This opens up the thin and light Air category to a wider class of users who would otherwise need to buy a MacBook Pro just for connectivity.
The only obvious physical difference presented by the Thunderbolt port is that the MiniDisplay Port jack now has a Thunderbolt icon next to it. Other interfaces are identical to the previous model year's MacBook Airs.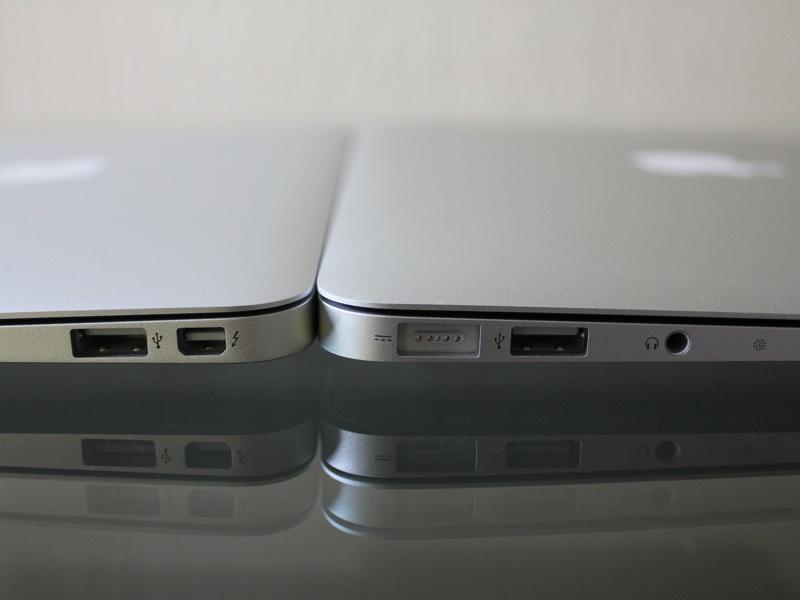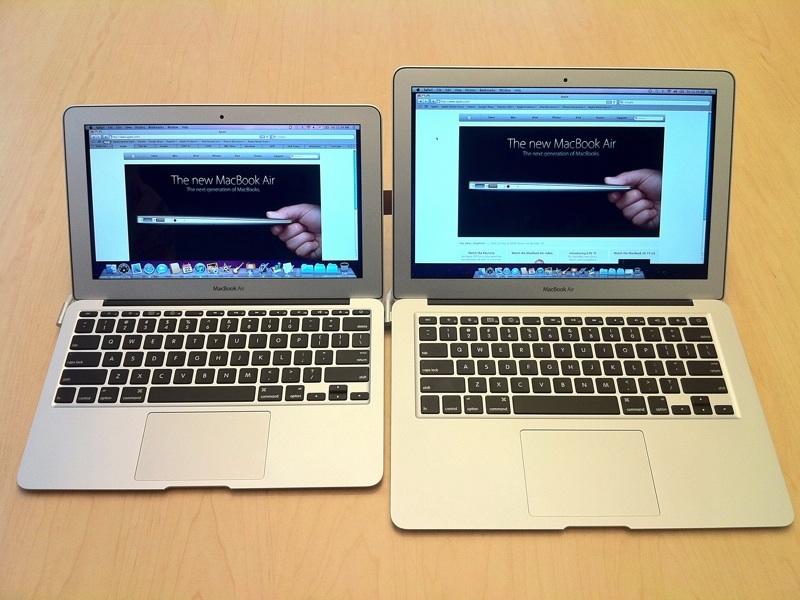 This added connectivity for the MacBook Air also helps further differentiate it from the iPad, which sports a screen similar to the 11 inch Air while lacking its keyboard. With Thunderbolt, the Air is firmly positioned in a more powerful, flexible tier of computing than the handheld iPad (shown below next to the 11 inch Air and also between the 13 and 11 inch Air.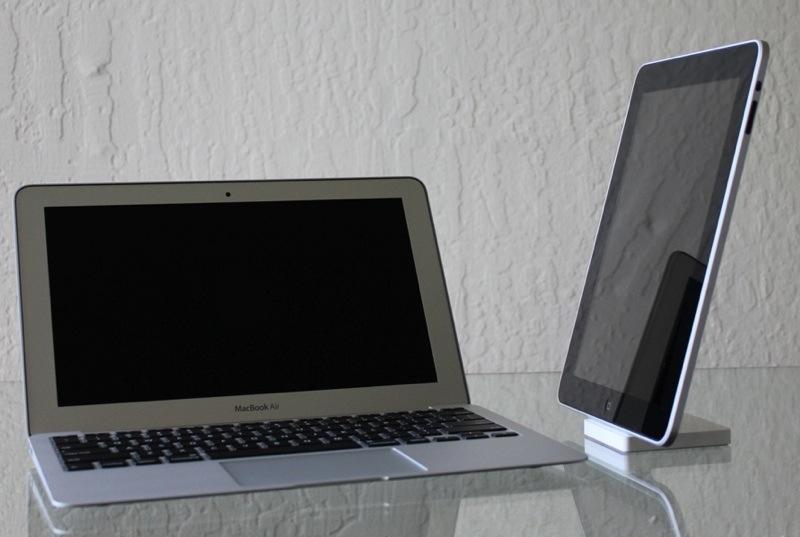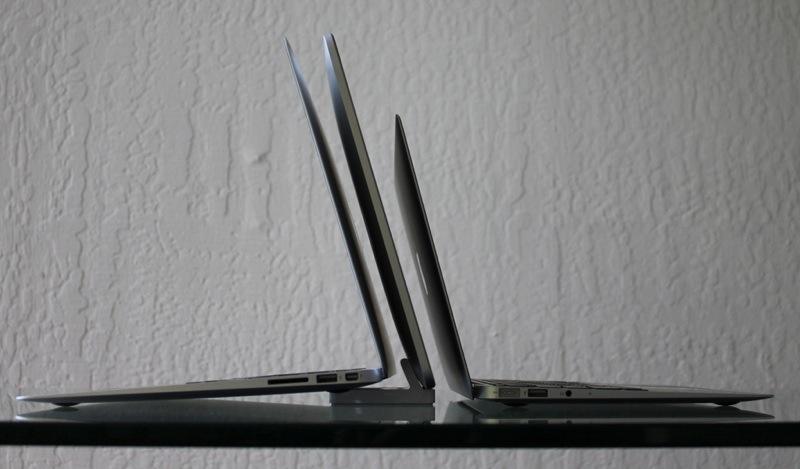 On page 3 of 3: Unboxing the Thunderbolt Air.
Unboxing the Thunderbolt Air
Both MacBook Air models are feather light, but slightly heavier than last year. The 11 inch model is now 2.38 lb (1.08 kg) rather than 2.3 lb (1.04 kg), while the 13 inch Air is now 2.96 lb (1.34 kg) versus 2.9 lb (1.32 kg).
The Air models continue to keep the weight down by not including an optical drive, which Apple is working to make increasingly less important both by pushing movies toward digital downloads and rentals and the new effort to push digital downloads of software through the Mac App Store.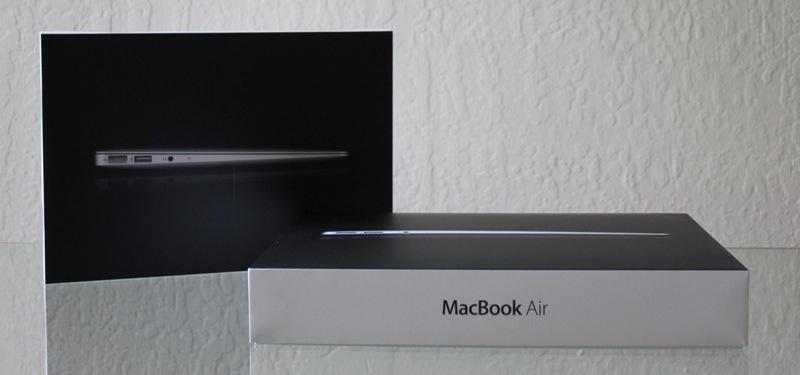 The first generation of MacBook Airs offered an external optical drive but recommended use of then-new Disc Sharing feature for network-based installations of software from DVD. Last year, Apple began providing recovery software on a solid state flash RAM dongle (see below).
This year, even that is gone, thanks to the standard new recovery partition created by Mac OS X Lion, which reserves a small portion of the internal drive for recovery uses.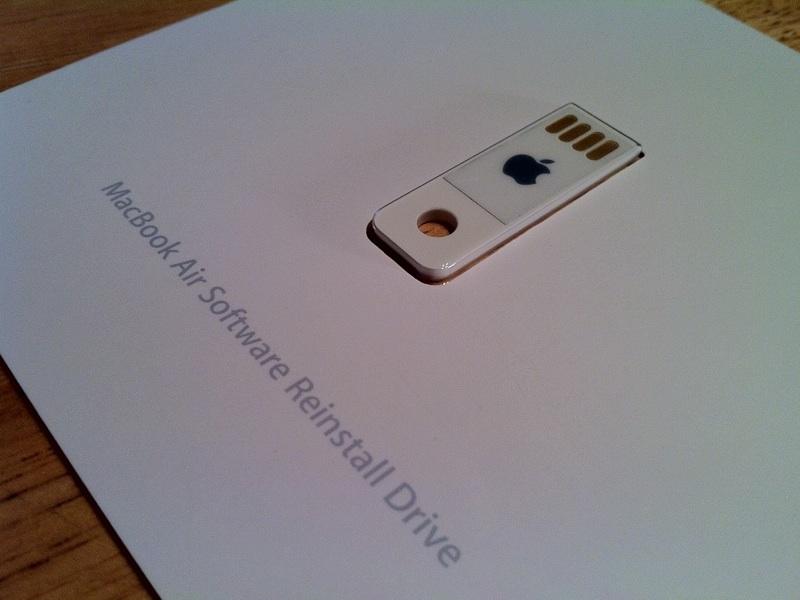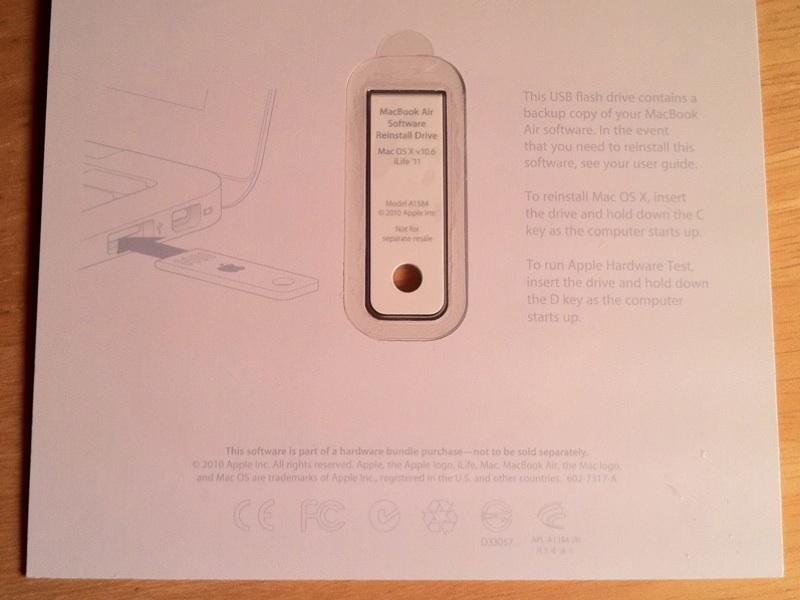 All that's left inside the box is a Apple MagSafe power supply (your existing ones will work as well), and the usual regulatory notifications, Apple stickers, and mini-manual booklet.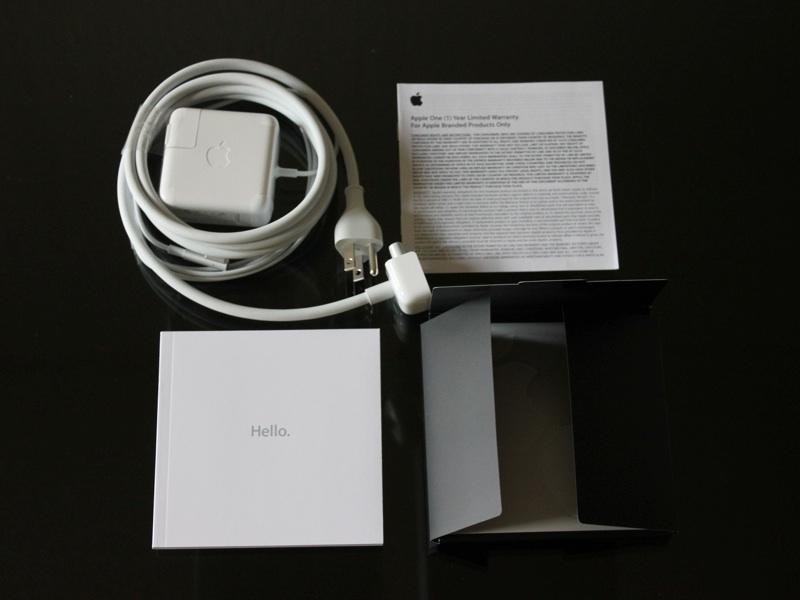 The new MacBook Airs began making their way to Apple stores and authorized over the last 24 hours. Readers in the market for one of the notebooks can check out AppleInsider's Mac Pricing Guide (also below), where MacMall is already offering readers an additional 3% discount off its already reduced MacBook Air (and MacBook Pro) prices. The discount is instant when using the links below but available only when placing orders on line — you do not need to call MacMall to place a pre-order. Orders placed online will ship as soon as the reseller receives stock from Apple. Currently, the low-end 11.6" and high-end 13.3" models are in stock with the other models arriving to ship Monday.