Apple building $1.4M temporary store in New York's SoHo neighborhood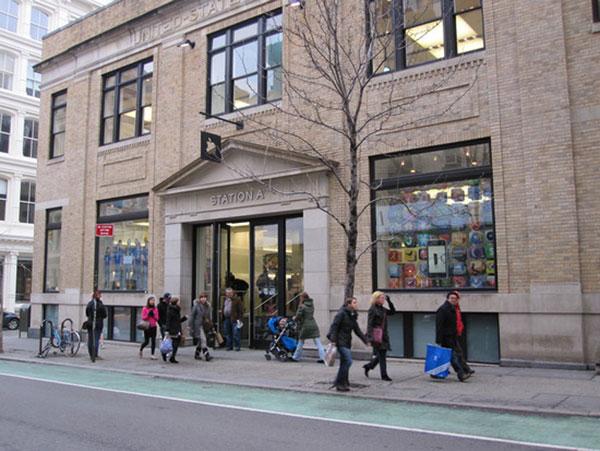 While its popular SoHo store undergoes major renovations, Apple will set up shop at a temporary location in the same neighborhood on New York City's Greene Street, AppleInsider has learned.
A new Apple Store is currently being built at the address 72 Greene St. According to an anonymous tipster who contacted AppleInsider, construction workers at the site allegedly said the new location is temporary while the main SoHo store at 103 Prince St. undergoes renovations.
Gary Allen of ifoAppleStore.com dug through the city's building permits and discovered that one was issued last Thursday for a $1.4 million project designed by an Alameda, Calif., architectural firm that has done work for Apple in the past. The project is described as:
"Change of use at second floor and portion of cellar and first floor to retail store and accessory offices. Remove & construct partitions, doors, ceiling and finishes..."
The documentation makes no mention of Apple, as is standard procedure for the company. The paperwork also does not include any diagrams of the store. The parcel expected to be utilized by Apple is a five-story building 100 feet deep and 75 feet wide.
"Apple will use the cellar for back-of-house, ground floor and partial second level for public retail, and part of the second for offices," Allen told AppleInsider. "The third, fourth and fifth floors remain as what they are — offices of other firms, I believe."
Plans to expand Apple's SoHo store were uncovered by Allen this March, revealing the company's plans to use a 5,000-square-foot retail space formerly occupied by the U.S. Postal Service. The extra space would bring the SoHo store more inline with other larger Apple retail stores found in New York City.
Last month, it was discovered that Apple would temporarily relocate its SoHo store to allow for the much-needed expansion, but at the time the location of that temporary store was unknown. The move to 72 Greene St. is expected to occur at some point in the next few months, though no timetable has been given.
The renovations at Apple's SoHo store are the second major New York-based undertaking from the iPhone maker this year. Work is already underway to replace the iconic glass cube that serves as the entrance to the company's heavily trafficked Fifth Avenue store; that project will cost the company $6.7 million.