Apple ranked top mobile PC vendor with 21.1% share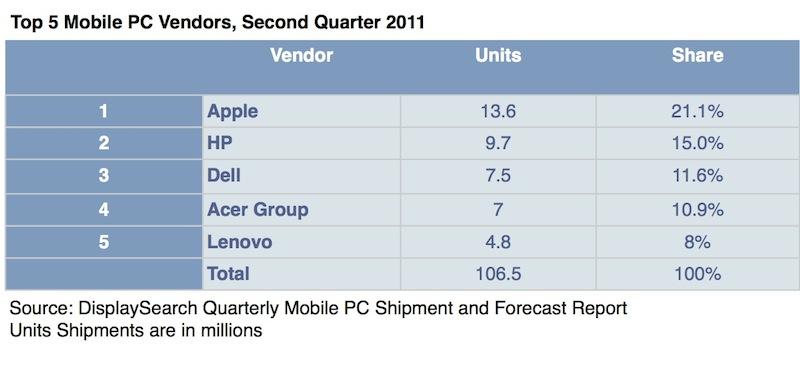 AppleInsider may earn an affiliate commission on purchases made through links on our site.
In the global market for mobile PCs including notebooks and tablets, Apple now ranks first, with a 21.1 percent share of units sold.
DisplaySearch reports that Apple sold 13.6 million mobile PCs in the second quarter, 3.9 million more than second place HP.
Nearly 80 percent of Apple's mobile PC sales were iPads. DisplaySearch called tablets "the engine of growth for the mobile PC industry."
Quarterly tablet sales were up 70 percent sequentially and 400 percent over the year ago quarter, with DisplaySearch noting that 16.4 million units were shipped in the second quarter. Of those, 10.7 million were iPads.
Erasing Apple from the figures, the firm notes that shipments of other makers' tablets grew 25 percent over the past year, amounting to just over 5.6 million units.
While Apple sold as many iPads as it could build, competitors have been shipping many tablets that end users have left on the shelf. Samsung made news this winter for shipping 2 million Galaxy Tabs, but refused to say how many were sold through to users.
HP has slashed the price of its new TouchPad, but it has been reported that mounds of inventory remain unsold in stores.
Notebook sales were actually down 2 percent across the industry sequentially, but up 2 percent over the same quarter last year.
Richard Shim, a senior analyst for DisplaySearch, said in a release that "preliminary results show a second consecutive quarter of Y/Y shipment growth rate decline. While part of the Y/Y decline can be attributed to a strong first half of 2010, the rising tablet PC shipment growth rate begins to point to notebook PC shipment cannibalization."
While Apple continues to sell the most tablets, those sales haven't had a discernible impact on its own sales of Macs, which continue to far outpace the overall growth of generic PCs. Across many markets, PC vendors are actually experiencing a contraction of sales, indicating that rather than cannibalizing its own, the iPad is preying upon other species.