Post-Steve Jobs Apple likened to departures of Walt Disney, Henry Ford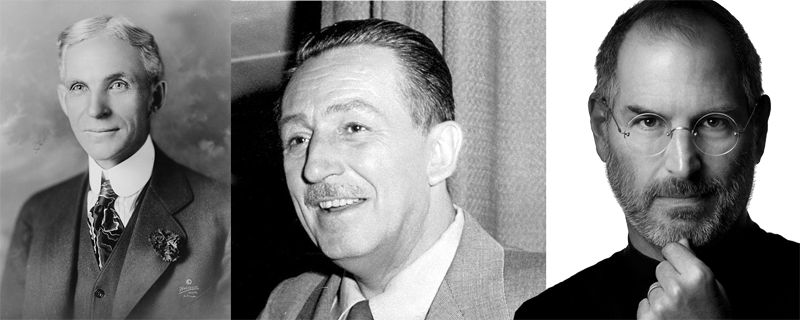 The resignation of Steve Jobs as Apple CEO is a significant event for the company, but similar to the departures of visionaries in years past like Henry Ford and Walt Disney, Apple is expected to go on without Jobs.
As news of Jobs' departure begins to settle, Wall Street analysts continue to offer their take on Apple's new era. One take from Mike Abramsky of RBC Capital Markets gave the comparison to Disney and Ford, whose companies live on long after their founders.
"Similar to the departure of Henry Ford, Walt Disney — unique creative forces whose companies carried on for years — Apple without Steve will go on," he wrote in a note to investors on Thursday. "However, it's hard to believe Apple won't be different; Steve was involved in every detail of product, marketing, execution, deal-making (carriers, studios, etc.) and had the vision and gravitas to bet on disruptive innovations."
Abramsky believes consumers are likely to continue to buy Apple products, while transition to new CEO Tim Cook is expected to be smooth. But in the longer term, he said investors may fret about whether the company can keep its "cool" and "wow" factor.
"Steve's departure may precipitate Apple's evolution from icon-led to team-led, from disruptive innovation to continuous innovation," he wrote. "Most innovations at Apple are created through small teams, and Steve's approach to design and execution remains steeped into Apple's culture (simplicity, discoverability, elegance, differentiation, attention to detail, ecosystem control and tight integration, secrecy)."
RBC Capital Markets has maintained an "outperform" rating for AAPL stock following this week's executive shakeup. They recommend that investors accumulate on related weakness surrounding the departure of Jobs.
RBC's Mike Abramsky compared the departure of Steve Jobs (right) to those of Henry Ford (left) and Walt Disney (center).
Other analyst takes following Jobs' announcement on Wednesday that he has resigned as Apple CEO:
Analyst Brian White said the eventual resignation announced on Wednesday should come as no surprise to investors. He has advised that they should stay the course with Apple, as much of the concern over Jobs was likely already built into the stock price.
"We are not surprised that this announcement came this year, albeit the precise date could never have been known," White said. "In fact, during our marketing meetings over the past eight months, investors have indicated that if Steve Jobs stepped down as CEO or worse, the stock could correct up to 10% the next day and they would be buyers on this potential selloff."
White said that Jobs completed the biggest turnaround story in corporate history, all while reinventing the consumer electronics market, upending entire industries and destroying competitors.
"Clearly, there is no one like Steve Jobs in the tech world and Apple will never have another Steve Jobs at the helm, however, we believe he has created an incredibly talented team that can lead Apple to continued success fro many years to come," he said.
Analyst Shaw Wu said Wednesday's events, in which Cook was named CEO immediately, show that Apple had a clear succession plan in place, despite not sharing it publicly. The swift changing of the guard should relieve some investor concern, he believes.
But AAPL stock may see "choppiness" in the near future, he said, as some investors may feel that Cook needs to "prove himself and gain confidence" that he can maintain the "magic" the company has produced under Jobs.
Cook's transition to CEO could be like IBM's transition from Lou Gerstner, who was an architect and visionary, to Sam Palmisano, who carried on his vision, Wu believes.
"We see Tim Cook leading on the many principles of Steve Jobs that are ingrained in the culture of AAPL," he wrote. "In addition, we believe AAPL is clearly not a one-man show."
"We believe Cook is a highly capable executive and deeply familiar with Apple's business plans, product roadmaps and operations," analyst Chris Whitmore said. "He has also acted as interim CEO on previous occasions and we see very little near term execution risk."
Shares of AAPL stock are viewed as attractive, he said, in the near term. Whitmore believes the greatest risks for Apple will be in 3 to 5 years, if and when Jobs permanently departs from the company. He remains with Apple as the company's chairman of the board.