Leaked photo shows white 'iPhone 4s' entry in AT&T inventory system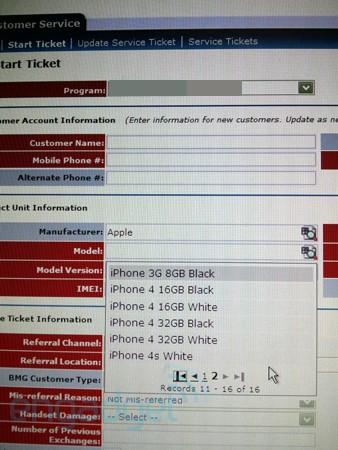 AppleInsider is supported by its audience and may earn commission as an Amazon Associate and affiliate partner on qualifying purchases. These affiliate partnerships do not influence our editorial content.
A leaked photo allegedly from AT&T's internal inventory system shows a new entry for a "iPhone 4s White" as the launch of Apple's next-generation iPhone nears.
Engadget received the screenshot of the carrier's internal system from a tipster, with the listing for the "iPhone 4s" beneath other iPhone models, such as the iPhone 3G and iPhone 4. The listing appears to be incomplete, however, as it does not list the storage capacity.
Also worth noting is the fact that the "s" is left uncapitalized, unlike the "G" in the "iPhone 3G 8GB Black" listing. While it's possible that the entry is simply a mistake, the photo is fueling speculation that Apple will release an iPhone 4S next month, possibly alongside the so-called iPhone 5.
The "iPhone 4S" moniker has been used by the media to refer to a rumored modest upgrade to Apple's existing iPhone 4 handset, similar to the difference between the iPhone 3G and the iPhone 3GS. In recent months, publications have taken to referring to Apple's upcoming fifth-generation smartphone as the "iPhone 5," and the rumored incremental revamp of the iPhone 4 as the "iPhone 4S."
Numerous reports have suggested that Apple will release two distinct versions of the iPhone in an attempt to break into the pre-paid market. Earlier this year, a bevy of reports from major media outlets claimed that Apple was hard at work on a cheaper iPhone, with some even suggesting that the new device would actually be smaller in size.
Meanwhile, reports on the iPhone 5 have emerged alongside separate rumors of the "iPhone 4S." According to one recent report, Apple will announce the new iPhone 5, which Apple engineers reportedly said will be "fairly different" from the iPhone 4, in "just weeks." The device is expected to feature the A5 processor and an 8-megapixel camera.
Analyst Ming-Chi Kuo told AppleInsider earlier this week that Apple is set to build 30 million next-generation iPhones with an improved antenna design by the end this year. Kuo pointed to a mid-October launch for the device, as he expects Apple to release the golden master of iOS 5 to assemblers during the week of Sept. 23.