Twitter developer events suggest iOS 5 release by Oct. 10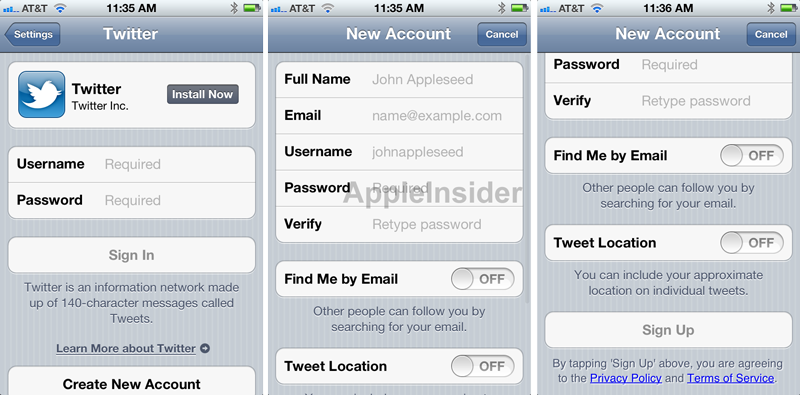 Twitter has scheduled a pair of "Developer Teatimes" for Oct. 10 and Oct. 12 with a "heavy focus" on the service's tight integration with iOS 5, possibly providing further evidence that the forthcoming update to Apple's mobile operating system will arrive in two weeks.
Twitter announced the teatimes, the first to be held outside of San Francisco by the company, on Friday. The developer events will take place in London on Oct. 10 and New York City on Oct. 12, with space limited to just 150 attendees per city, as noted by Matthew Panzarino of The Next Web.
"There's a lot going on in the ecosystem and we'd like to take this chance to share the highlights with you – including the latest developments with the platform, areas of opportunity that we're seeing, and a heavy focus on the iOS 5 Twitter integration for developers," said Twitter's Jason Costa.
Given that iOS 5 is currently still in a beta development phase, it has been suggested that the timing of the events is meant to closely coincide with the public release of the OS.
Adding to the speculation is the fact that other evidence has pointed to a similar timeframe for the release. AppleInsider reported last week that the AppleCare division at Apple had been notified to prepare for an influx of iOS-related inquiries on Monday, Oct. 10.
AppleInsider was also first to report that Apple plans to release the Golden Master build of iOS 5 between Sept. 23 and Sept. 30. As the final version of the software, the GM would be sent to assemblers to be loaded onto the iPhone 5 in preparation for an expected mid-October launch.
According to one recent report, the Cupertino, Calif., company will hold a media event on Tuesday, Oct. 4 to take the wraps off the much-anticipated iPhone 5.
Apple announced in June that it had partnered up with Twitter to add deep integration of the social networking service to iOS 5. Rumors of the close partnership had surfaced prior to the unveiling.
As a result of the cooperation, the Twitter app has gained greater prominence in Apple's own promotional materials for iOS 5. For instance, in one image (pictured below), Twitter is the only third-party application featured alongside Apple's own apps, including Notification Center, Message, iBooks and Camera.
Rival social network Facebook, on the other hand, has worked less closely with Apple in recent years. Though the company provided one and iPhone application for the launch of the App Store, it has dragged its feet in releasing a native iPad app.