Chinese carrier says Apple's iPhone 5 will support 4G-like HSPA+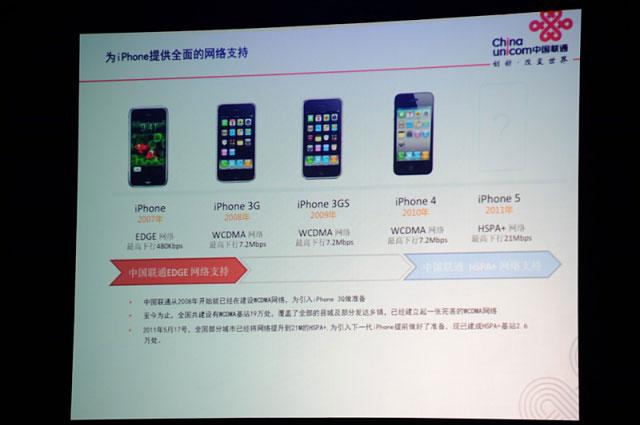 Apple's fifth-generation iPhone will feature support for fast HSPA+ 21Mbps network speeds, sometimes advertised as "4G," carrier China Unicom has revealed.
The carrier revealed the information in a presentation given at this week's Macworld Asia. A slide shown by the carrier, spotted by Macotakara, displays the evolution of the iPhone, from the first-generation model in 2007 onward.
Included in the slide is a blank spot for Apple's so-called "iPhone 5," which the company will officially unveil at an event next Tuesday. No photo or details on the iPhone 5 are provided, except for a mention that it will access HSPA+ networks, which have theoretical maximum download speeds of 21Mbps.
That compares to the 7.2Mbps maximum theoretical speed the WCDMA radio has provided in the iPhone 4, iPhone 3GS and iPhone 3G. The first-generation iPhone featured EDGE data connections for 480Kbps.
In the U.S., AT&T and T-Mobile have their own HSPA+ networks which the carriers advertise as having "4G" speeds, even though they aren't true fourth-generation technology. AT&T is currently rolling out a true LTE 4G network in the U.S., and the carrier's proposed acquisition of T-Mobile would give it more spectrum to expand its coverage.
Rumors have maintained that this year's iPhone upgrade will not feature a true 4G LTE radio. The China Unicom slide does indicate, however, that the next iPhone will feature an improved modem.
In April, Apple Chief Operating Officer Tim Cook indicated his company is in no rush to adopt true 4G LTE technology in its products. He admitted that Apple has explored LTE, but the company wasn't ready to make the jump with the launch of a CDMA Verizon iPhone in February.