Movie studios to launch own cloud service as Apple readies iCloud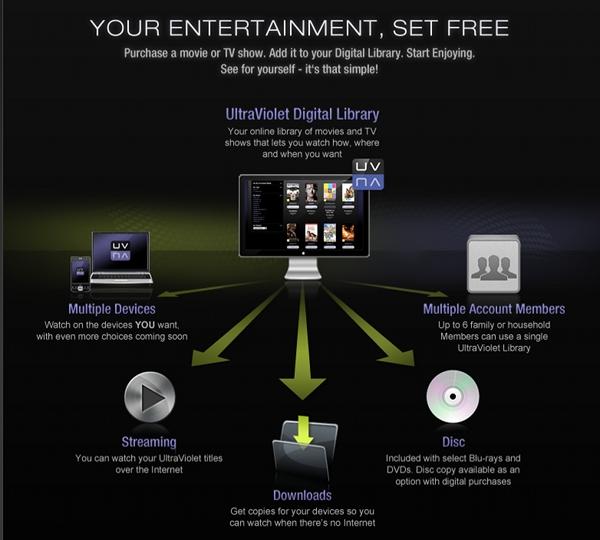 In a move to encourage customers to buy movies rather than rent or stream, studios are planning to launch cloud-based services to compete with digital media rental outlets, like Apple's iCloud-enhanced iTunes.
Citing a steady decline in physical disc sales, which are far more profitable than digital rentals, studios this month plan to begin allowing their DVD and Blu-ray customer access to what they call "digital lockers." These cloud-based repositories will let customers stream or download a digital copy of their physical purchases on a wide variety of devices.
In order to access media from UltraViolet, users must create an account, or "digital locker," that serves as a hub for all their purchased media. Passcodes that come with the physical discs allow access to those movies online, from remote servers.
The move is meant to encourage movie ownership, reports Reuters. In recent years, buying physical movies discs has become less attractive in light of instant streaming services that continue to grow their catalog of flicks available to most internet-connected devices.
"We are in a preservation game," said James McQuivey, media technology analyst at Forrester Research. "We are trying to preserve an eroding base of DVD and Blu-ray spend."
Sony, Warner Bros. and Universal will each rely on UltraViolet, a new digital rights authentication and cloud-based licensing system that allows users to stream or download a digital copy of the movie they purchased on disc, from the studios' remote servers. The service will support set-top boxes, computers, game consoles, Blu-ray players, internet TVs, smartphones and tablets.
Meanwhile, Walt Disney, the only major studio not backing UltraViolet, will launch in the coming months a similar proprietary service, called Disney Studio All Access. Apple is another notable industry holdout, and refuses to use the Ultraviolet DRM, as they rely on proprietary formats.
Cloud storage "gives the benefit of ownership without the issues of long download time, storage constraints and the lack of interoperability," said Lori MacPherson, executive vice president of global product management at Walt Disney Studios. "It will be a game-changer for digital ownership."
Hollywood's push towards cloud-based initiatives comes as industry heavyweight Apple plans to launch its own cloud service, conveniently named iCloud. iCloud will not launch with the ability to stream movies purchased through iTunes, as licensing agreements have yet to be secured. However, Apple CFO Peter Oppenheimer did hint during a June conference call that the company is preparing "neat stuff" for its movie store without going into details.
When iCloud rolls out on Oct. 12, it will allow iOS, Mac and PC users to access stored data, sync documents and stream music, on any supported device. Naturally Apple hopes to expand the service to include movie streams, but must acquire the cooperation of Hollywood to do so.
Warner Bros. will start offering DVD and Blu-ray discs with UltraViolet support this month, while Sony and Universal will follow in early December. Other studios, like Paramount and 20th Century Fox, are also backing the UltraViolet standard but they have yet to announce any titles that support the new format.
Disney's Studio All Access service has no official roll-out date, but is reported to become available in the next few months.