AT&T hedges iPhone 4S bet with 5 new Android devices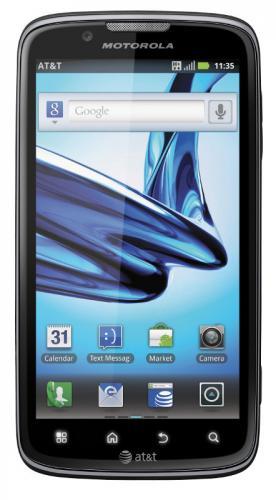 AppleInsider is supported by its audience and may earn commission as an Amazon Associate and affiliate partner on qualifying purchases. These affiliate partnerships do not influence our editorial content.
AT&T announced on Tuesday the upcoming release of the Motorola Atrix 2 smartphone and four other new Android devices, bringing the wireless carrier's total Android lineup for the year to 19, seven more than originally planned.
The second-largest wireless operator in the U.S. issued a statement early Tuesday broadcasting the upcoming availability of five new Android phones: Motorola Atrix 2, Samsung DoubleTime, Samsung Captivate Glide, Pantech Pocket and the AT&T Avail.
"Committed to serving the growing number of Android fans, AT&T now provides more options for customers seeking the Android OS experience at a variety of price points, form factors and through unique services," the company said.
The Atrix 2, the flagship device of the bunch, is Motorola's followup to the Atrix 4G released earlier this year. Though the original Atrix garnered significant pre-release interest for its impressive technical specifications and unique accessories, including a laptop dock and media station, sales failed to live up to early expectations.
The second-generation handset "combines "extreme power" with "life of the party" all at an affordable price,"" AT&T wrote in its press release. The phone sports a 1 GHz dual-core processor, 4G HSPA+ connectivity, and a 4.3-inch display. Like Apple's recently-announced iPhone 4S, the Atrix 2 has an 8-megapixel camera and can record video in 1080p HD.
Motorola's new smartphone will compete with Apple's iPhone 4S when it goes on sale on Oct. 16, just two days after the launch of the new iPhone. With an aggressive $99 price tag, the Atrix 2 undercuts the iPhone 4S, which starts at $199.
The other four upcoming devices round out AT&T's Android offerings to a total of 19 in 2011, with more planned to come. Prior to the most recent batch of Android phones, AT&T had launched 12 Android smartphones and two new Android tablets this year.
The Samsung Captivate Glide is the other "premium smartphone" of the bunch, featuring a side-slide QWERTY keyboard and a 1GHz. The device boasts a 4-inch Super AMOLED screen, 8-megapixel flash camera and 1080p video recording. Samsung's DoubleTime sports a full flip keyboard, the older Android 2.2 operating system and a white and pink color scheme. Meanwhile, the Pantech Pocket is billed as the ideal device for "customers focused on social entertainment and messaging. Finally, the AT&T-branded Avail, produced by ZTE, is a device built for AT&T's GoPhone pre-paid business.
Though AT&T was Apple's original carrier partner for the iPhone in 2007, the carrier made moves to reduce its reliance on Apple ahead of the loss of its exclusive on U.S. iPhone sales in February of this year.
AT&T announced late last week that it had received 200,000 preorders for the iPhone 4S in the first 12 hours of availability. Apple offered up a second figure early Monday when it revealed that it had received a total of one million preorders for the iPhone 4S in the first 24 hours. Preorders for the device are backed up, with current shipping estimates of 1-2 weeks on Apple's website.
Apple unveiled the iPhone 4S last week, showing off new Siri personal assistant voice technology, an improved 8-megapixel camera and the faster A5 processor.
With the iPhone 4S launching this week, Android competitors are preparing their responses. Google and Samsung had sent out invitations for an event next week, presumably to launch the next-generation Nexus Prime smartphone running Android 4.0 "Ice Cream Sandwich," but the event has been rescheduled, reportedly out of respect for the passing of Apple co-founder Steve Jobs. Android handset makers are expected to finalize their fall lineups within weeks in order to challenge the iPhone during the holiday season.