Microsoft boasts patent licenses with over half of Android market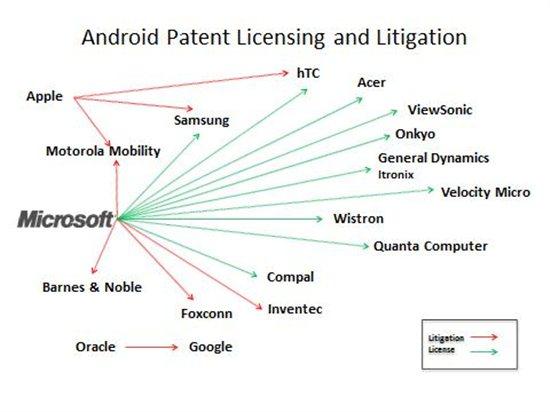 Microsoft announced on Sunday that a new patent license agreement with original design manufacturer Compal means that companies accounting for more than half of all Google Android-based devices now have agreements with the software giant.
On the heels of the Redmond, Wash., Windows maker's announcement that it had reached an agreement with Compal to receive royalties in exchange for patent coverage for the Android or Chrome platform, the company's General Counsel Brad Smith and Deputy General Counsel Horacio Gutierrez posted an official blog post touting the new statistic.
The deal marks Microsoft's tenth license agreement with an Android partner. Momentum appears to be in the company's favor, as nine of the ten licenses have come in the last four months alone. Some pundits have gone so far as to speculate that Microsoft makes more money from its patent licenses to Android than it does off of its own platform, Windows Phone 7. For instance, the company's agreement with HTC is said to bring in $5 per Android device sold by the Taiwanese handset maker.
Microsoft was also said to be seeking $15 per device from Samsung. The two companies reached a cross-licensing agreement in late September, but declined to reveal how much Samsung would pay to Microsoft in royalties.
However, Windows Phone boss Andy Lees worked to dispel the myth that Microsoft receives more revenue from Android patent licenses than Windows Phone sales during an interview last week.
"I don't know where the, you know, one making more money than the other comes from. We certainly want to sell a lot of Windows Phone," Lees said at AllThingsD's AsiaD conference in Hong Kong.
Sunday's post included a chart entitled "Android Patent Licensing and Litigation" showing that Microsoft has reached agreements with all but a few Android ODMs and OEMs. According to the chart, the company still has pending litigation with Motorola Mobility, Inventec, Foxconn and Barnes & Noble. The graphic also depicts Apple's ongoing legal action against rivals Motorola, Samsung and HTC.
Smith and Gutierrez went on to point out that Microsoft spent roughly $4.5 billion to license patents from other companies over the past decade. Over the same period, the company reached 1,133 agreements to license its patents "to other companies that share [its] desire to respect IP rights."
The post also included a pie chart showing that 55 percent of the worldwide ODM market by revenue have Android licensing agreements with Microsoft. Meanwhile, the company claims that 53 percent of the Android smartphone market in the U.S. in terms of units are licensed.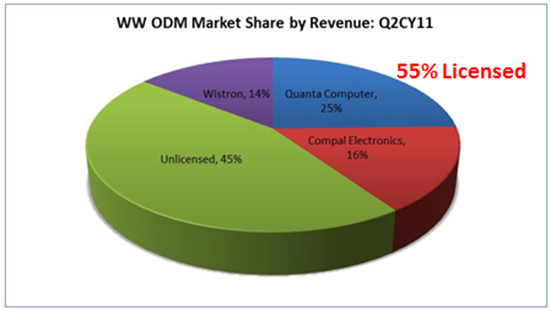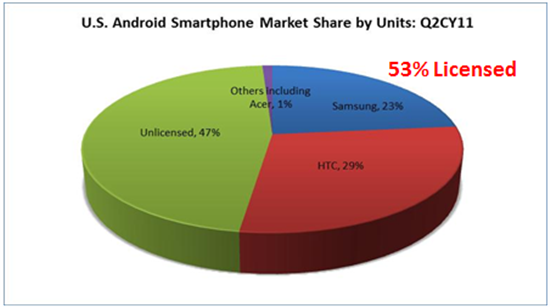 "For those who continue to protest that the smartphone patent thicket is too difficult to navigate, it's past time to wake up," the authors concluded. "As our recent agreements clearly show, Android handset manufacturers are now doing the same thing. Ultimately, that's a good path for everyone."
Apple, on the other hand, has indicated a divergent approach to its patents from Microsoft. Court documents from a dispute between Apple and Samsung in Australia reveal that the company is only willing to license "lower level patents." The company's strategy appears to involve holding back some of its more advanced inventions as iOS exclusives in order to differentiate its products.
Apple co-founder Steve Jobs told biographer Walter Isaacson in an interview that he would spend his "last dying breath" fighting to destroy Android because he believed it was a "stolen product."
"I'm willing to go thermonuclear war on this," Jobs reportedly said.
Jobs also reportedly told former Google CEO Eric Schmidt that he wasn't interested in settling with Android makers over patent violations.
"I don't want your money. If you offer me $5 billion, I won't want it. I've got plenty of money. I want you to stop using our ideas in Android, that's all I want," Isaacson quoted Jobs as having told Schmidt.