Apple issues Apple TV 4.4.2 and MacBook Pro 15" video updates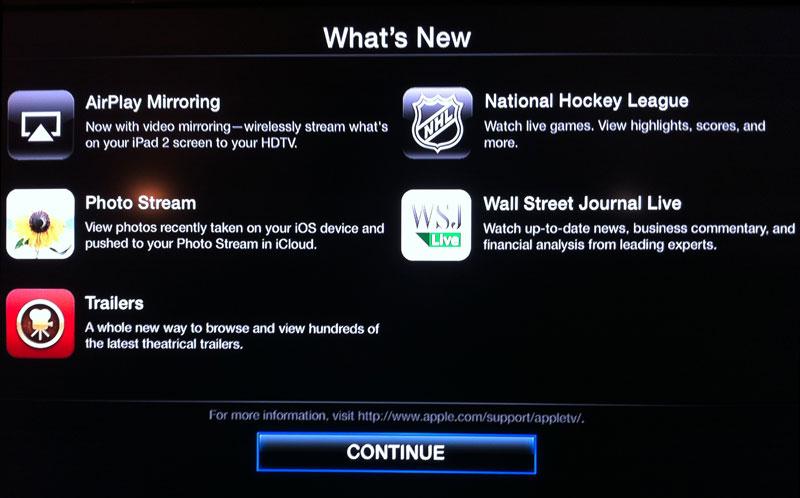 Apple on Monday issued Apple TV software update 4.4.2 to resolve issues with recent versions of the set-top box's software, as well as Video Update 1.0 for mid-2010 15-inch MacBook Pros.
Apple TV Software Update 4.4.2
The Cupertino, Calif., company released Software Update 4.4.2 on Monday. Apple TV users are warned to first reset all settings if they are already running versions 4.4 or 4.4.1.
"Apple TV devices with software version 4.4 and 4.4.1 have an issue with updating software to later versions," Apple wrote in a support note for the update. "We recognize that this is an inconvenience and apologize."
Last week, Apple released Apple TV Software Update 4.4.1 to fix minor bugs in version 4.4, but quickly took it down after users reported problems with it.
Released earlier this month, Apple TV software version 4.4 added Photo Stream compatibility, Trailers, Wall Street Journal Live and National Hockey League content. The update also added support for subtitles in Netflix and three new slideshow themes.
MacBook Pro Video Update 1.0 addresses an issue where 15-inch mid-2010 models would intermittently freeze or stop displaying video. The 70.97MB download requires Mac OS X Lion 10.7.2.
Apple had previously identified the problem as occurring in 15-inch MacBook Pros manufactured between April 2010 and February 2011. The bug caused both built-in and external displays on some machines to turn black or gray before freezing up or ceasing to display video.