Amazon income drops as Kindle Fire burns margins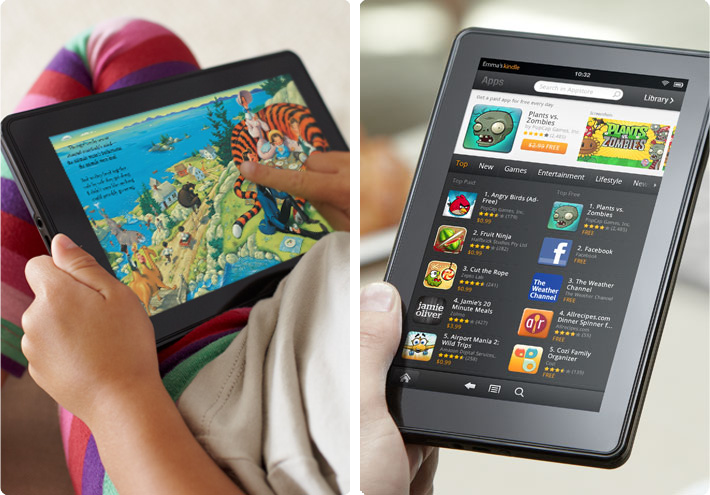 Online retailer Amazon announced on Tuesday lower than expected third quarter earnings and guided for potential losses in the fourth quarter, as its low-margin strategy with the Kindle Fire could pose a threat to future profits.
The company revealed sales for the recent September quarter grew 44 percent year over year to $10.88 billion, but it was unable to convert the growth into earnings. Operating income shrank from $268 million in third quarter 2010 to just $79 million. According to Investor's Business Daily, Amazon's 14 cents a share earnings missed average analyst estimates by 10 cents.
Guidance for the fourth quarter predicted a broad range for operating income — a lower limit of a loss of $200 million and an upper limit of $250 million in profits. Such a loss would represent a 142 percent decline year over year for the retailer. Net sales for next quarter are expected to be between $16.45 billion and $18.65 billion, with growth between 27 percent and 44 percent
The earnings miss shook investors' faith in the company last Tuesday. Shares of the company slid $10.46, or 4.4 percent, in the day's trading and plummeted $28.26 to $198.89 during after-hours trading.
Founder and CEO Jeff Bezos also announced in the earnings press release that pre-orders for the Kindle Fire tablet have been better than expected, with the company "increasing capacity and building millions more" units than initially planned.
Though Amazon CFO Thomas Szkutak dodged analyst questions of whether the Kindle is affecting margins, he did hint at a low-margin strategy during a Q&A session with analysts to discuss the results, as covered by Seeking Alpha.
"We think about the economics of the Kindle business, we think about the totality," he said. "We think of the lifetime value of those devices. So we're not just thinking about the economics of the device and the accessories. We think about the content.
"We are selling quite a bit of Special Offers devices which includes ads. We're thinking about the advertisement and those Special Offers and those lifetime value. So those are the things certainly that are impacting, as well as investments in other areas impacting our Q4 guidance. So we feel very good about where we are right now and the opportunities that we have in front of us."
Amazon announced the aggressively-priced $199 Kindle Fire in late September. The 7-inch multitouch tablet goes on sale on Nov. 15.
J.P. Morgan analyst Douglas Anmuth said Kindle Fire production has risen sharply as of late. He expects Amazon to sell 5 million Kindle Fire units in the fourth quarter.
But, some analysts have questioned whether Amazon's strategy will pay off in the long-term. Piper Jaffray's Gene Munster estimates that the company will lose $50 per Kindle Fire sale. J.P. Morgan's Mark Moskowitz said he's "not impressed" with the device, adding that the Fire's low price could actually deter customers.
For his part, Apple CEO Tim Cook responded to the notion that the Kindle Fire represents a threat to iPad sales during the company's most recent quarterly earnings conference call.
"We've seen several competitors come to market to try to compete with the iPad over time. Some had different form factors, different price points. I think it's reasonable to say that none of these have gained any traction thus far."
According to recent projections from Gartner, Apple will hold on to a dominant 73.4 percent of the tablet market in 2011. The company sold a record 11.12 million iPads in the September quarter, up 166 percent from a year ago.