Nokia Windows Phone 7 Lumia 800 vs Apple iPhone 4S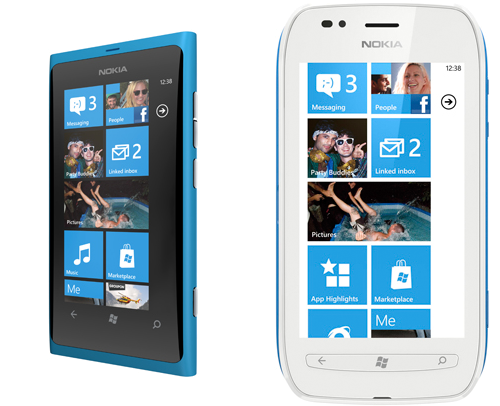 Nokia's first Windows Phone 7 device offers specifications somewhere between Apple's iPhone 4 and iPhone 4S, but is missing some key hardware and software features and will only debut in Europe, effectively leaving the US market to Apple and Android this holiday season.
Nokia recently revealed two new phones running Microsoft's Windows Phone 7.5 Mango platform: a lower end Lumia 710 and the top of the line Lumia 800. Both phones are GSM/UMTS/HSPA only, and will initially be sold only in Europe and parts of Asia this year.
That makes the devices only potentially functional on AT&T if imported to the US, but Nokia hasn't yet released plans to bring the devices to America. The company has never established a significant presence in the US for its smartphones.
Nokia has indicated that may eventually build CDMA or LTE versions of its phones for sale in the US next year. Worldwide, Nokia's leadership as a smartphone vendor once established its Symbian OS as the leading platform for more sophisticated mobile devices, but that dominance has collapsed since the arrival of Apple's Phone in 2007.
In China, Apple has now passed Nokia as the brand consumers express a preference for, leaving Nokia now tasked with rebuilding its presence using Microsoft's year-old Windows Phone 7 platform, which over the past year has seen very limited adoption.
Nokia's Lumia 800 is based upon the company's N9, a MeeGo Linux phone released in June of this year after Nokia announced its plans this spring to shift from Linux and Symbian to Windows Phone 7. Nokia made no plans to sell the N9 in the US, focusing on bringing WP7 to market instead. The Lumia 800 is a cross of the two.
Nokia's new Lumia 800 (left) and Lumia 710 are its first Windows Phones.
Nokia Lumia 800 vs iPhone 4S hardware
The new Lumia 800 is not a global CDMA/GSM phone like iPhone 4S, but does match its HSDPA 14.4 Mbps download potential on European networks. It has the same 512MB of RAM and uses a faster clocked but simpler, single core Qualcomm chip, putting it somewhere between Apple's iPhone 4 and 4S in terms of general performance but considerably worse than both in graphics performance.
The model is offered only in a 16GB capacity, and lacks the SD Card slot and removable battery that many previous Nokia buyers expressed a preference for over the iPhone's built in storage and battery.
The Lumia 800 offers similar camera specifications to the iPhone 4S, but has a dual flash and lacks a front facing camera for video conferencing. It also has no support for HDR photos, 1080p video capture, nor HDMI video output, nor wireless video output similar to Apple's AirPlay. It also lacks a gyroscope for accurate motion control.
Nokia uses a AMOLED display that is slightly larger than the Phone, but offers a lower 480x800 resolution than the iPhone 4/4S' 960x640 display, and at 252 ppi, it falls considerably short of Apple's 326 ppi Retina Display in terms of sharpness.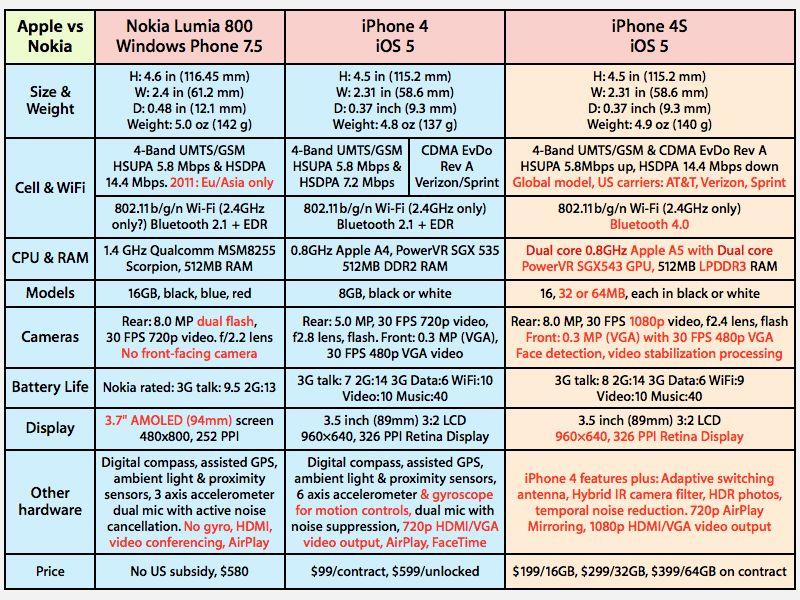 Nokia rates the model as having a longer 3G talk time but a shorter 2G talk time compared to Apple's own iPhone ratings, although the battery life tests between Apple and Nokia are not standardized and therefore not necessarily comparable. Nokia also does not outline a rated battery life for WiFi web browsing, watching video or listening to music as Apple does.
Compared to the previous N9, the similar Lumia 800 includes half as much RAM and no 64GB storage option, but a slightly larger (but still integrated) battery. This indicates Nokia is aiming at establishing even its higher end model at a price point affordable to the mass market. It plans to sell the model for 420 Euros (about $580), making it about the same price as iPhone 4 (which is $599 unlocked in the US for the new 8GB version) and slightly cheaper than $699 and up iPhone 4S.
However, Apple reportedly commands 40 percent greater subsidies from carriers, which would tend to make Apple's devices appear $200 cheaper than alternatives in the same market.
On page 2 of 2: Windows Phone 7.5 vs iOS 5
Windows Phone 7.5 vs iOS 5
Since February of this year, Nokia has grown heavily invested in Microsoft's Windows Phone 7 platform, and the two new Lumia models are the company's first efforts to leverage that software to rebuild the global smartphone position it lost after the failure of its own Symbian platform and its abandonment of Meamo/MeeGo Linux.
Windows Phone 7 has seen virtually no traction in the market since its debut last year, so both companies are working hard to turn their positions around, resulting in Nokia announcing its new models as being "the first real Windows Phone" in an effort to distract attention away from the lack of excitement surrounding WP7 as a platform.
Microsoft's WP7 minimum standards dictate some features of Nokia's Lumia 800, including its 480x800 display, although the phone skips on at least one of the optional new features of the platform: a 6 axis gyroscope. Apple first added a gyroscope to iPhone 4 in summer 2010.
The phone also uses a single core Qualcomm Snapdragon chip with Adreno graphics, another requirement of WP7, but one that provides limited performance and a very basic GPU for more sophisticated gaming. Nokia's original N9 used a TI OMAP3630 with a PowerVR SGX530 GPU, which while not in the same class as Apple's dual core A5 with dual core PowerVR SGX543MP2 GPUs in the iPhone 4S, was at least in the ballpark of last year's A4 in the original iPhone 4.
Weak mobile gaming on WP7 is ironic given Microsoft's strong position in gaming with the Xbox 360 and its efforts to tie WP7 into its XBLA service. Apple's Game Center is ahead in some respects, including the ability to participate and join in multiplayer games, and of course, in the number of games that support it. It's also ironic that Microsoft's newly acquired Skype video conferencing app works on iOS but not yet on WP7, and once it does it will never work like the iPhone 4/4S FaceTime because Nokia's Lumia 800 lacks a front facing camera.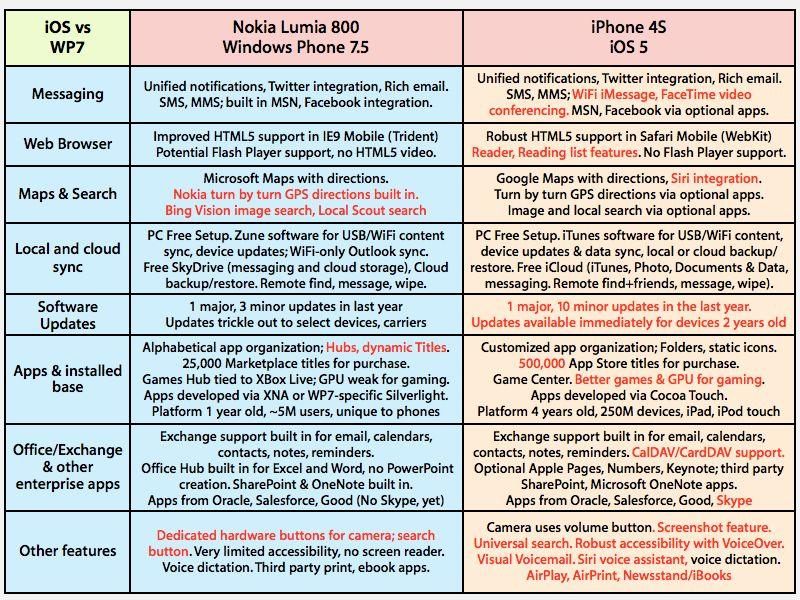 WP7 supplies some interesting new ideas on how to organize apps and services, using Hubs as a was to associate features. There's a People Hub for contact-related information that integrates with various services like FaceBook and Twitter, a Games Hub that ties into XBLA (although it doesn't yet support multiplayer gaming like Apple's Game Center); a Pictures Hub that ties your local album in with FaceBook albums and an Office Hub for working with documents.
Microsoft also touts WP7's dynamic tiles (app icons that can display updated information similar to widgets) as a unique feature of the platform, although the advantage of similarly colored blocks with animated graphics and changing text in them is only an arguable advantage over the readily recognizable icons that iOS uses to navigate between its home page apps. Developers work hard to brand their app icons as unique, so turning them into dynamic banner blocks could be considered an arbitrary change rather than an improvement.
The WP7 platform is also only a year old; despite being built upon the foundations of Windows Mobile, it shares little in common with it. That means WP7 apps have been around for less than a year, and the built in maturity of the system shows some serious holes itself. A recent update just added copy/paste support, and WP7 is seriously lacking in areas such as a print architecture, wired or wireless video distribution, accessibility and screen reader functionality, and it even lacks a screen capture feature.
Unlike Apple's iOS development environment for the iPhone, which is very similar to its desktop Mac OS X platform and shared with the iPod touch and iPad, Microsoft's WP7 development environment shares limited aspects of Xbox/Zune games development with XNA but continues a Silverlight development strategy for its general purpose apps (90 percent of the Marketplace library), one that Microsoft has effectively abandoned on the desktop.
While next year's Windows 8 plans to share some of the same Metro UI as WP7 and the Zune on PCs and new tablet form factor devices, software has to be custom written for each in different ways, and apart from the PC, of those products have gained any traction over several years of being available, in stark contrast to the synergy between the Mac and the quarter billion iOS devices sold in the last four years.
WP7 is also missing Visual Voicemail and a unified inbox (although 7.5 introduces a way to similarly "link" specific email accounts together). It links direct "Hub" style SMS messaging with MSN and Facebook chat, although it lacks an equivalent WiFi SMS-alternative to iMessage or RIM's BBM. While Microsoft has made great strides in improving its mobile web browser, its remains the oddball in a sea of mobile browsers that nearly all now use WebKit. Oddly enough, while WP7 may support Adobe's Flash Player (iOS never will), its browser can't just natively play web videos via HTML5.
WP7 cloud services and updates
In cloud and sync services, Microsoft's Zune sync software and Marketplace for apps and content appears similar to Apple's iTunes, but lacks a lot of the polish of Apple's App Store, not to mention the fact that its app library feels like a ghost town compared to Apple's. Apple's iCloud goes beyond Microsoft SkyDrive's simple cloud storage of documents with a more sophisticated Documents & Data service, along with Photo Stream and the ability to pull Apps, iBooks, music, TV, backups, bookmarks, Reading Lists and messaging services from the cloud.
Microsoft's WP7, like Google's Android, exists in large part to bring those company's search and advertising products to the mobile market. Similar to Google, Microsoft has tied in a number of clever integrations with Bing, its local search (called Local Scout) and an image search (Bing Vision) service that can identify products, barcodes and text via the camera. Apple isn't selling search services, it's selling hardware, so to use services from Google, Microsoft and other providers, you need to install their apps.
Apple is however developing Siri as a voice assistant for (among other things) accessing Internet services such as Google and Bing, along with Wolfram Alpha, Yahoo and Yelp. Siri also does voice dictation, something that WP7 (and Android) had beat Apple to integrating into the mobile OS, but its unique ability to triage search tasks makes it far more useful than a simple voice recognition feature. It also performs a variety of local tasks for interacting with contacts, email, calendar, reminders, notes and maps via voice.
While Microsoft is working to catch up with iOS, it faces a few problems. First off, it's trying to catch up three years after Apple got started, which is something like trying to compete with Windows 95 as Microsoft brings Windows 98 to market. Or trying to clone the iMac or iPod three years late. Or trying to release an iPad alternative in 2013. Microsoft's first year of sales with WP7 phones have been minimal, failing to build upon even the minority share held by the previous Windows Mobile, essentially leaving WP7 at square one again. It's now four years behind.
At the same time, over the past year Microsoft only managed to release one minor feature update "NoDo," two minor bug fixes, and is now rolling out a second significant update branded 7.5 Mango. In every year of iOS, Apple has pushed out a huge annual update accompanied by six to ten minor feature updates or bug fixes. Further, every iOS update is made available immediately users directly. WP7 updates have trickled out over months through different carriers to select models at different deployment schedules.
While Nokia's partnership with Microsoft has produced a flagship WP7 device backed by a heavily invested licensee (Nokia, unlike other major WP7 licensees, has not expressed any interest in Android), it remains to be seen what impact it will have in establishing WP7 as a viable platform. Nokia is not only competing against Android and iOS for attention, but also against alternative WP7 makers for a tiny slice of the current smartphone market.
Nokia is also backtracking upon its former legacy of supporting open source, having erased its support for Linux, an open Symbian, Firefox and WebKit. That's certainly going to have an impact the company's developer base, which simply lacks much commonality with Microsoft's proprietary XNA/Silverlight development model in WP7.
There does not appear to be standout, remarkable features unique to the Lumia 800, and it even abandons unique features that Nokia and its enthusiasts once mocked as lacking the iPhone, including a replaceable battery, the ability to plug in SD Cards to expand storage or save to external media, a physical keyboard, or the fancy optical zoom found on some other Nokia smartphones.
One final problem for Nokia and Microsoft is that the pair won't have smartphone suitable for the US until next year. There does not seem to be a lot of pent up demand for a WP7 phone nor Nokia devices in the US, where neither have sold well before. But being confined to Europe (and then parts of Asia later this year) will give WP7 a limited geographical reach just when it needs to garner the most attention to hold the interest of third party developers who have already been waiting around for a year for an audience to materialize.
While the media expressed tremendous disappointment for the Phone 4S at its launch earlier this month, they offered largely overwhelmingly supportive commentary on Nokia's latest phones, neither of which bests the iPhone 4S in any respect whatsoever. Based on the parallel lack of criticism offered for the Palm Pre, HP's webOS, this year's Android 3.0 Honeycomb tablets, and last year's WP7 itself, that suggests Nokia's new WP7 phones will not do exceptionally well in the actual market.