Sprint says iPhone most network-efficient smartphone and "worth every penny"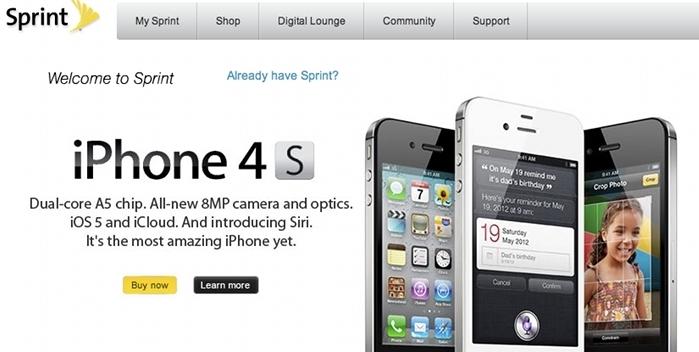 AppleInsider may earn an affiliate commission on purchases made through links on our site.
Sprint's top executive said this week that Apple's new iPhone is its most network-efficient smartphone, using some 50% less data than comparable Android handsets.
Speaking during the carrier's third-quarter conference call Wednesday, Sprint chief executive Dan Hesse said the company's four-year subsidy-driven bid to carry the iPhone was "worth every penny," with preliminary reports indicating that the handset uses significantly less data than other smartphones, allowing the company to retain its unlimited 3G data plans.
In order to carry the iPhone, the nation's third-largest carrier is reported to be paying 40% more than the industry average in subsidies, translating to $200 per device, in a $20 billion four-year deal with Apple.
Hesse noted during the call that since Sprint began selling the device on Oct. 14, it has attracted customers at a rate higher than any smartphone in Sprint's history, exceeding even the company's own expectations.
"Our early results selling the iPhone and iPhone 4 confirm the iPhone's ability to attract new customers," Hesse said.
Despite the swelling demand for Apple's handset, Hesse noted that the phone is not likely to overburden the carrier's network, going on to say that load may actually be reduced due to the device's efficient use of data, which will allow the carrier to extend its unlimited 3G data plan.
"One of the beauties of carrying the iPhone is it extends the period of time and increases the likelihood of us maintaining unlimited data longer because it uses our network so efficiently," Hesse told Forbes in a post-earnings call interview.
Steve Elfman, Sprint's president of network operations and wholesale, explains that the Apple's multi-year experience in handling handset optimizations — offloading data usage to WiFi along with a host of app and content tweaks — makes the iPhone "quite efficient in comparison to other devices."
While the iPhone may sip data in comparison to other smartphones, speed is another story as the new iPhone 4S has been optimized for AT&T's GSM 3G HSDPA protocol, being reportedly faster than Sprint or Verizon's networks that use CDMA 3G EV-DO technology.
In a recent report, AppleInsider found that Sprint's 3G service on the 4S was nearly unusable in both San Francisco and Los Angeles.
Nevertheless, Sprint expects the availability of Apple's handset models to boost revenue by $7 to $8 billion, due to high product demand and the fact that iPhone users typically pay more per month for service.
Hesse commented earlier this year that the carrier's inability to sell the iPhone was one of the biggest reasons Sprint subscribers left and why potential customers weren't choosing to sign up.
The company posted a net loss of $301 million on a revenue of $8.33 billion for the quarter ending Sept. 30, but was up $180 million year-to-year.