Apple's in-store pickup option expands to New York City stores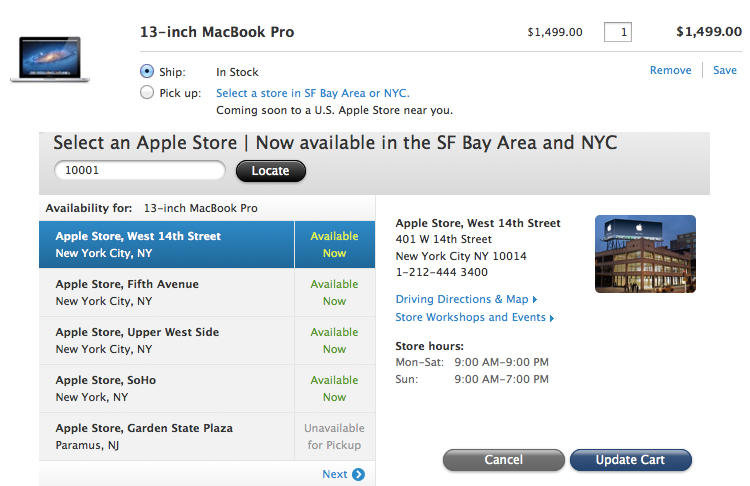 AppleInsider is supported by its audience and may earn commission as an Amazon Associate and affiliate partner on qualifying purchases. These affiliate partnerships do not influence our editorial content.
Apple continues to expand its new in-store pickup option, as customers in New York City can now pick up online purchases from the company's retail locations.
As of Monday, Apple's online store now offers in-store pickup of products in the Big Apple, joining the San Francisco stores kicked off the new program last week. When finalizing an order through the storefront, users have the option to ship a product, or pick it up at a choice of stores in either city.
Apple's site continues to advertise that in-store pickup will expand, stating "Coming soon to a U.S. Apple Store near you."
For readily-available products, like a standard-configuration MacBook Pro, inventory is in strong supply, and products can be picked up at any Apple Store in New York. But for some custom configurations the product must be delivered to a store. For example, an iMac with a solid-state drive upgrade, the advertised arrival date is Nov. 15.
With in-store pickup, customers get the Personal Setup treatment for any new Apple product. Products listed as "Available now" can be picked up within an hour, and customers can also designate someone other than themselves to pick up an order.
Apple began offering an in-store pickup option in a limited capacity in 2009 with its holiday "Reserve and Pick Up" program. That was restricted to specific products: the iPhone, iPod and MacBook lineups, Mac mini, iMac and Mac Pro, and did not include accessories. Apple's new, permanent in-store pickup option does apply to accessories, such as iPhone and iPad cases.
The expansion to New York comes as Apple is also rumored to be planning to add a new self-checkout feature to its Apple Store application for the iPhone. With the new functionality, customers will allegedly be able to purchase accessories and items found on the shelf with their iTunes Store account, without the need for a salesperson to complete the transaction.