Google to charge partners who heavily use its Maps API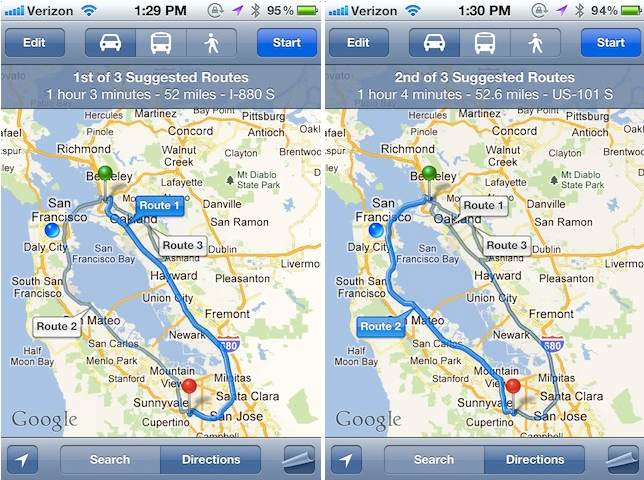 Major partners who serve up more than 25,000 uses per day of the Google Maps application programming interface service will be charged for overages starting in 2012.
It's unknown how — or even if — the changes could affect Apple. But Google's decision to start charging its largest partners comes as Apple is believed to be working on its own mapping solution for iOS devices — a change that might even entirely replace the company's reliance on Google Maps.
According to the BBC, Google will charge $4 per 1,000 views for "hits" that reach more than 25,000 per day. The new charges will apply to partners who use the Google Maps API service to power their own products.
On the iPhone, iPad and iPod touch, the map data and Street View content available in the iOS Maps application is provided by Google. Apple has been using its own location databases since April of 2010, but still relies on Google for supplemental data.
Google's plan to charge partners for heavy use of the Google Maps AI will take effect on Jan. 1, 2012, and the company has said it will only affect 0.35 percent of users. Thor Mitchell, product manager of Google's Maps API, said the charges are necessary to ensure the "long-term future" of the product.
Of course, Google's changes may not affect Apple, as the terms of the deal between the two companies are unknown. Google and Apple extended their partnership for maps and search technology in the iPhone in a new deal inked earlier this year.
Google Chairman Eric Schmidt said at the D9 conference this year that he hoped his company would continue its agreements with Apple for "a long time," though he admitted the relationship between the two companies had come "rough" as competition between Android and iOS continues to grow.
Alternate routes are a new addition to Maps in iOS 5.
Apple's interest in building its own mapping service for iOS has been well documented. This year, the company even publicly admitted that it is working on a "crowd-sourced traffic" service for the iPhone that will become available in "the next couple of years."
Apple has also purchased a number of mapping companies in recent years, including Placebase, Poly9, and C3 Technologies. Apple's efforts to build its own mapping service have also been made plain in a number of job listings advertised by the company, including one highlighted by AppleInsider in September where Apple revealed it wants to "rethink" how people use its Maps application on the iPhone and iPad.