Sprint investigating iPhone 4S speed issue, unable to replicate it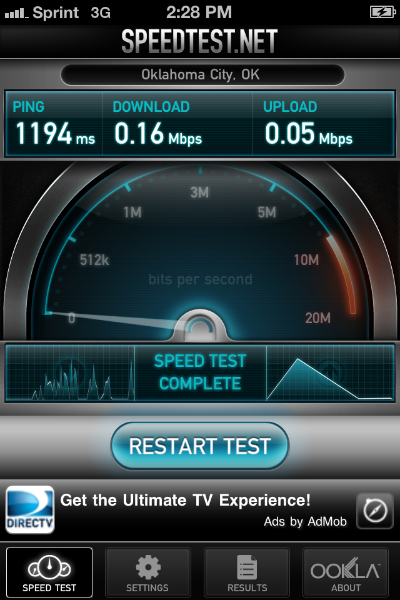 Wireless operator Sprint has said it is taking seriously reports of problems with iPhone 4S download speeds on its network, but the carrier has yet to consistently reproduce the issue.
Not long after Sprint began carrying Apple's best-selling smartphone last month, customers began reporting connection issues and slow speeds. As of Wednesday evening, a support discussion on Sprint's website has received 1,291 replies and more than 240,000 views.
One customer reported seeing speeds three times as fast on the Samsung Epic Touch on 3G as on the iPhone 4S during a test.
Sprint's head of product development Fared Adib told CNET on Wednesday that the company is looking into the complaints.
"We're taking the reports of problems from a small number of customers seriously," he said. "There's nothing of significance to report yet."
Adib acknowledged the issue in hopes of letting customers know that Sprint wasn't ignoring them, but he had little to report in terms of a solution.
"We don't see anything that is easily replicable," he told the publication, adding that the company would move fast once a fix is discovered.
Last week, The Next Web reported details of an alleged internal Sprint email that acknowledged a "confirmed nationwide issue" that Apple and Sprint were working together to fix.
For its part, Apple has its own issues to work on. The company confirmed on Wednesday that a software bug in iOS 5 has been affecting iPhone users and promised a fix would arrive in a few weeks.
Despite the fact that the iPhone has a 40 percent higher subsidy than the industry average, the carrier has said the smartphone is "worth every penny." CEO Dan Hesse has also hinted that the iPhone's high network efficiency helps keep costs down for its unlimited plans.
The carrier has already seen early success with the iPhone. In just four hours, Apple's newest handset smashed the company's previous one-day sales record.
Hesse has indicated in the past that not having the iPhone was the main reason it lost customers. As the third-largest wireless carrier in the U.S., behind only AT&T and Verizon, Sprint is now counting on the iPhone to reverse the heavy subscriber losses it has sustained from its competitors.