Apple notifies faulty MagSafe owners of class-action settlement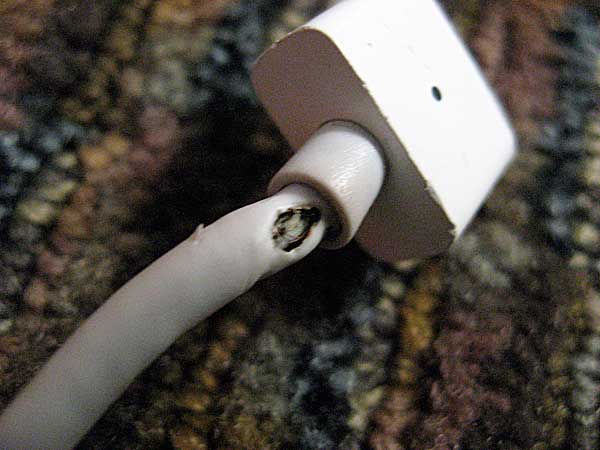 Apple has reached a settlement on a class-action lawsuit over T-shaped MagSafe connectors for MacBook and MacBook Pro models that can fray and come apart.
The company on Tuesday posted a new support document detailing the Apple Adapter Replacement Program, revealing that some customers have received notices referring to the program. As part of the resolution, Apple has referred customers to the website adaptersettlement.com, which gives details on a cash payment available to those who own a 60-watt or 85-watt MagSafe MPM-1 T-shaped Power Adapter.
The power adapter shipped with both MacBook and MacBook Pro models, and could also have been purchased separately. Over time, some of those adapters can show signs of "Strain Relief Damage," in which the internal wires can fray and become exposed.
Apple was hit with a class-action lawsuit related to its T-shaped MagSafe power adapters in 2009, asserting that the faulty connectors could trigger sparks and become a potential fire hazard. Another suit was filed a year ago claiming that Apple's "dangerous" MagSafe included with a 2007 MacBook Pro caused a major fire at a Connecticut home.
The new settlement applies to customers who may have purchased a replacement adapter within the first three years of owning their MacBook or MacBook Pro with the T-shaped MagSafe adapter.
A court must still approve the proposed settlement, but the website reveals that customers who bought a replacement adapter in the first year of owning the faulty MagSafe adapter could be entitled to a maximum of $79, while second-year purchases could receive $50, and third-year replacements could garner $35.
A MagSafe adapter cable whose sheath has melted, exposing the wire. | Image credits: Flickr user AriXr.
Those who bought their own replacement adapter and seek a settlement are limited to three refunds per computer. Apple defines "strain relief" as "a condition where the DC cable (the thin cord that attaches the MagSafe connector to the power adapter) separates from the end of the MagSafe connector or from the other end o the thin cord, at the power adapter."
Customers looking for more information about the settlement can also call 1-888-332-0277. Those who seek the cash payment will be provided with a detailed notice and claim form package.
For customers who may still have a T-shaped adapter that shows signs of damage, Apple also offers replacement adapters at no cost. Potential adapter replacements can be obtained through an Apple Authorized Service Provider, Apple Technical Support, or at an Apple Retail Store.