Apple's charitable matching program raises $2.6M for nonprofits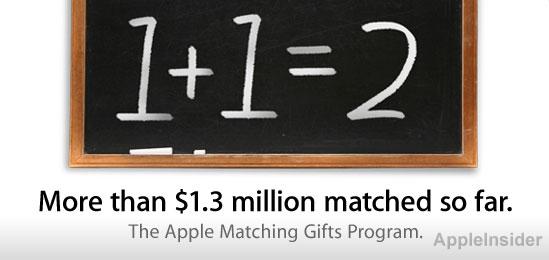 The combined efforts of both Apple and its employees have resulted in more than $2.6 million being donated to nonprofit organizations since a corporate matching program began in mid-September.
AppleInsider has learned that Apple has announced to its employees that the company has matched more than $1.3 million in donations in its program so far. Combined with the $1.3 million in personal contributions initially donated by employees, it brings the total sum of the "Apple Matching Gifts Program" to more than $2.6 million in less than two months.
The $1.3 million matched so far is being used by Apple to internally promote the program and solicit more donations. An image touting the success of the program links employees to a page that provides an overview of the matching program.
The charitable matching program was announced by Apple Chief Executive Tim Cook in an e-mail to employees in September. The program, through which money donated to a nonprofit 501(c)(3) organization is matched dollar-for-dollar by Apple, kicked off on Sept. 15.
Should employees choose to take advantage of the program, they can donate up to $10,000 to a nonprofit of their choice every year, and that money will be matched by Apple. The program is currently available to full-time employees of Apple in America, but will expand to more countries in time.
"We are all really inspired by the generosity of our co-workers who give back to the community and this program is going to help that individual giving go even farther," Cook wrote to employees in September. He continued: "Thank you all for working so hard to make a difference, both here and in the lives of others. I am incredibly proud to be part of this team."
Separately, a person familiar with Apple's corporate operations also revealed that the company is hoping to boost recruiting for its Silicon Engineering Group by offering a $5,000 bonus for employee referrals. A current Apple employee who refers someone for a job by Nov. 12 can receive the bonus if the person they recommend is eventually hired.