Analyst casts doubt on Nokia's Windows Phone hopes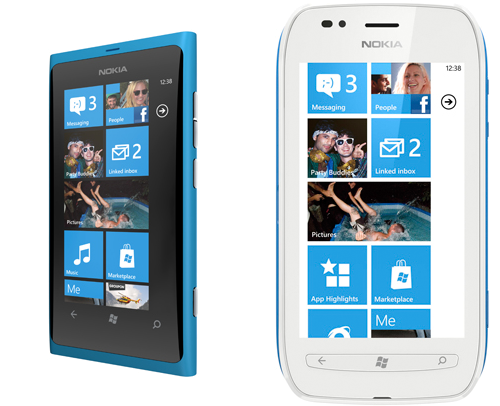 One analyst has drastically reduced shipment projections for Nokia's Windows Phone devices on the belief that the handset maker is unlikely to gain traction with its new lineup.
Pacific Crest Securities analyst James Faucette issued a research note on Tuesday cutting his sales forecast for Nokia's Windows Phone device sales from two million to as low as 500,000 units on concerns that they will fail to live up to expectations, as noted by The New York Times.
"With no breakthrough innovation, we believe Nokia's new phones are unlikely to get traction in a highly concentrated high end," he said, adding that the Lumia smartphones are not competitive on price or performance.
After announcing its partnership with Microsoft back in February, the world's largest handset maker unveiled the fruits of its labor, the Lumia 800 and the Lumia 710, last month. Both models are rolling out across Europe this month and are expected to arrive in Asia in early 2012.
Nokia's new Lumia 800 (left) and Lumia 710 are its first Windows Phones.
U.S. carrier AT&T has said it is close to reaching an agreement with Nokia to begin selling its Windows Phone offerings early next year. But, one executive for the company candidly admitted that he foresees "challenges" for Microsoft's platform because of competition from Apple and Google.
For its part, Nokia maintains that the level of preorders in the U.K. "has been higher for Lumia than any previous handset." Company spokesman Ray Haddow said that pre-sale numbers have led the company to be "very positive" about the Lumia 800.
Though Nokia still maintains a significant lead in global handset shipments, its share of the market slipped 5 percent year over year, according to Strategy Analytics. When it comes to smartphones, however, Nokia has fallen from the top to third place, behind Samsung and Apple, after losing more than half its global smartphone market share over the past year.
Microsoft is relying heavily on its new partner to build momentum for the Windows Phone platform. Recent third-quarter figures from Gartner show that the Microsoft's share of worldwide smartphone OS sales slid to 1.5 percent, down from 2.7 percent in 2010. Earlier this month, the software giant installed a 55-foot Windows Phone replica in a New York City park in an attempt to garner support for the platform.
During an annual Financial Analyst Meeting in September, Microsoft CEO Steve Ballmer said the company hadn't "sold quite as many" Windows Phones for the first year as he would have liked, though he did note that there was "enthusiasm" for the platform, according to AllThingsD.
"I am not saying I love where we are, but I am very optimistic about where we can be," he said. "We just have to kick this thing to the next level."