Microsoft looking to drum up Windows Phone interest with 55-foot NYC replica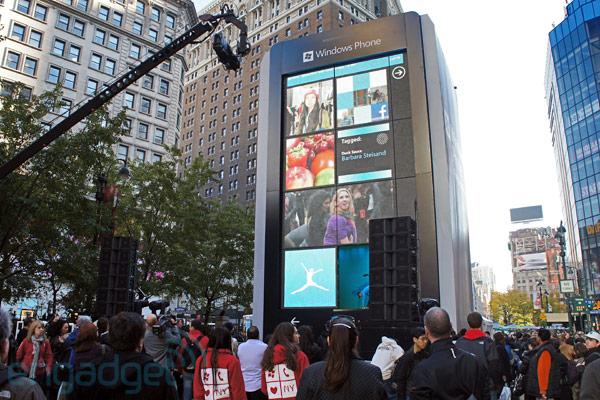 Microsoft has installed a six-story interactive Windows Phone structure in New York City's Herald Square as a promotional stunt to increase awareness of its struggling smartphone platform.
The smartphone replica is located "just a few feet away" from the world's largest Macy's Store in the middle of one of the city's more popular picnic areas, according to Engadget.
The oversized gadget features video feeds modeled after Windows Phone's proprietary tile interface. The tiles slide out of place to make way for live stage performances, such as a session from a calisthenics instructor.
Microsoft's event heralds the arrival of three new Windows Phone devices: the Samsung Focus S, Focus Flash and HTC Radar 4G. The company set up nearby pop-up showrooms for interested customers to check out the smartphones.
After a year on the market, Microsoft's reboot of its mobile phone operating system has yet to gain significant traction. But, Andy Lees, the company's executive in charge of the Windows Phone division, pointed out last month that Windows Phone 7 sold more devices in its first year than Google Android did during its launch year.
In fact, the Windows maker has been more consistent at touting its successes in reaching royalty-paying license agreements, which now cover more than half of the Android market, than actual Windows Phone sales. Some industry watchers believe that Microsoft makes more money from Android sales than it does from its own platform.
In July, Microsoft Chief Executive Steve Ballmer revealed that Windows-based phone sales had gone from "very small to very small." The company released a significant update to Windows Phone, codenamed Mango, adding several new features in an attempt to address some of the shortcomings of the original OS.
Windows Phone sales should see a boost, however, now that Nokia is ready to join the fray. After announcing a partnership with Microsoft eight months ago, the Finnish handset maker announced its first handsets running the OS late last month.