Kindle Fire's erosion of iPad market share offset by global iPhone demand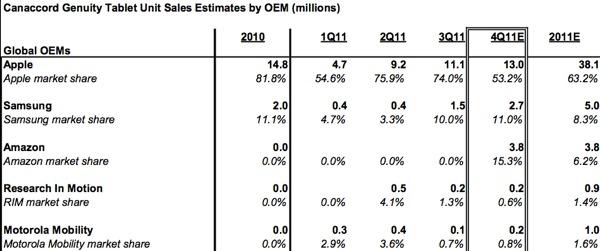 AppleInsider is supported by its audience and may earn commission as an Amazon Associate and affiliate partner on qualifying purchases. These affiliate partnerships do not influence our editorial content.
Sales estimates for Apple's iPad were slashed by 1 million units for 4Q11 due to a strong Kindle Fire launch, but iPhone sales pick up slack with domestic and international demand driving a 1.5 million increase on previous figures.
In a research note released on Monday, Canaccord Genuity said that while Amazon's tablet is expected to erode Apple's massive market share in the fourth quarter, Apple stock will see a net gain as iPhone sales will be bolstered by global launches and continually strong domestic demand.
Analyst T. Michael Walkley lowered his previous iPad sales estimates from 14 million to 13 million for the quarter ending in December, citing an expected new iPad launch next year and competition from the cheaper Kindle Fire. He writes that by the end of 2011 Amazon will be the No. 2 tablet maker with a 15.3% share, though Apple will easily retain the top spot with well over half the market.
Walkley notes that the almost 21% decrease in iPad market share quarter-to-quarter will be more than offset by increased fourth quarter iPhone sales of 30.5 million units, up from previous estimates of 29 million. He goes on to say that a healthy U.S. demand for Apple's smartphone, particularly from AT&T and Sprint customers, combined with upcoming global launches will net the iPhone its best quarterly performance of the year.
End of year smartphone sales estimates put Apple in second with its 18% market share trailing Samsung's 19.5%, followed by Nokia and RIM, with 15.7% and 11% respectively.
Estimated tablet sales | Source: Canaccord Genuity
iPad will once again enjoy a commanding lead with 63.2% of the 2011 tablet market, followed by Samsung with 8.3% and newcomer Amazon with a 6.2% share.
The analyst puts a $560 target price on AAPL stock, with an increased earnings per share for fiscal year 2012 at $34.16, up from $33.52.