Apple trying to stop sale of Steve Jobs action figure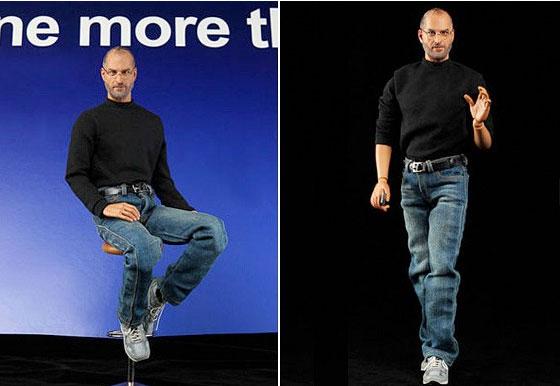 Apple's legal team has set its sights on preventing a new lifelike figurine, designed to look like late Apple Chief Executive Steve Jobs, from being sold for $99.
The 12-inch figurine was set for release in February from Chinese company Icons, but according to The Telegraph, Apple has issued a "legal challenge." Lawyers from Apple have reportedly threatened to sue the toy maker if they proceed with their plans to sell the action figure.
The retail price of the plastic doll is $99, though reseller prices through eBay have been around $135. The figurine comes with a pair of black socks, glasses, a leather belt, a bar stool, a "One More Thing" backdrop, and two apples, with a bite taken out of one of them.
"The legal wrangle is over the likeness of the doll to the late Apple founder, the rights of which the company claims it owns," the report said. "Apple reportedly stipulates in a letter to the Chinese manufacturer that any toy resembles the technology company's logo, person's name, appearance, or likeness of its products is a criminal offence."
The latest spat isn't the first time Apple's legal team has gotten involved in a figurine depicting Jobs. In December of 2010, Apple shut down sales of a miniature statue depicting Jobs holding an iPhone and standing atop an Apple logo.
That item became so popular that owners turned to eBay to sell the figurine at marked up prices. But Apple intervened in those sales as well, and stopped the sale of one for $1,125.
Unlike the previous figurine, the new plastic toy out of China is a pose-able action figure. Promotional images show it delivering a keynote, sitting on a stool, pointing, and doing other well-known poses done by Jobs in real life.