Target confirms it will open 25 Apple store-within-a-store outlets this year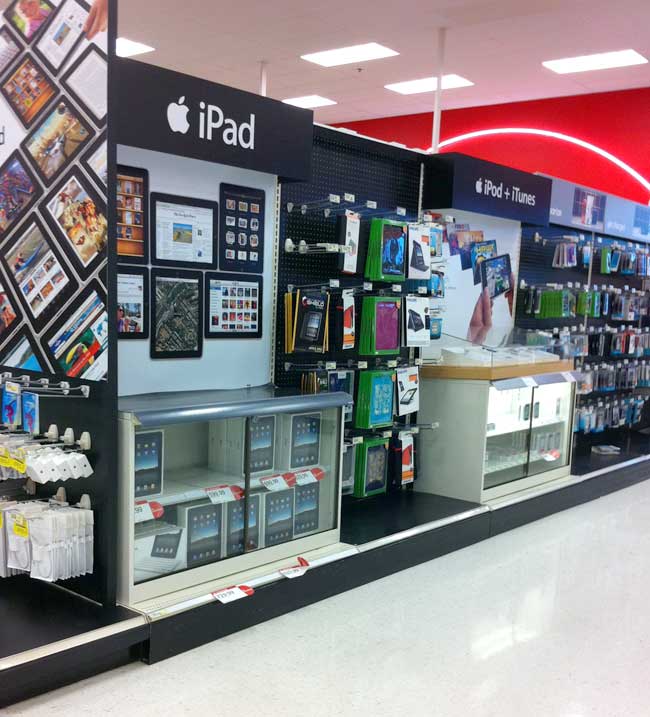 Target on Thursday confirmed that it plans to open 25 specialty stores dedicated to Apple products inside 25 of its existing retail locations.
AppleInsider exclusively reported last week that Target would open the new store-within-a-store locations at 25 larger Target stores this year. The retailer confirmed those exact details in a presentation in New York on Thursday, according to The New York Times.
The concept is called "The Shops at Target," and the dedicated Apple ministores coming to 25 Target locations will not be alone. The Minneapolis-based retailer has also partnered with Boston's Polka Dog Bakery and Miami's The Webster, among others, for its specialty shops.
Target has been selling Apple products for years, including the iPad, iPhone, and Apple's iPod lineup. Target does not currently offer any of Apple's Mac lineup, however, while Best Buy's Apple stores do sell Mac products.
The new Target mini-stores could pave the way for more products, like Macs or AirPort wireless routers, to become available. However, there has been no indication that the Apple stores at Target will offer a product selection as wide as Best Buy currently does.
Target has adorned its electronics sections with official Apple signage | Source: ifoAppleStore
"Stores-within-a-store, with dedicated floor space and signs and shelves designed by a brand, have been a popular strategy for a while," author Stephanie Clifford wrote for the Times. "Department stores have long had small boutiques for designers like Ralph Lauren or Chanel. J.C. Penney, a Target competitor, has made its stores-within-a-store — for Sephora, Call It Spring, MNG by Mango and other brands — a centerpiece of its strategy."