Legal pressure from Apple prompts cancelation of Steve Jobs action figure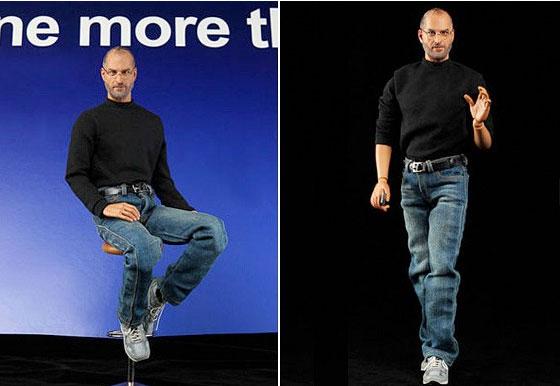 An action figure from Hong Kong designed to look like late Apple co-founder Steve Jobs has been canceled, after Apple's legal team and the Jobs family threatened the company behind the toy.
In Icon, the Chinese company that created the doll, said in a statement that the doll is no longer being made and is not available for sale, according to PC World. They said they "received immense pressure from the lawyers of Apple and Steve Jobs family."
"Though we still believe that we have not overstepped any legal boundaries, we have decided to completely stop the offer, production and sale of the Steve Jobs figuring out of our heartfelt sensitivity to the feelings of the Jobs family," Tandy Cheung of In Icon said.
The retail price of the plastic doll is $99, but reseller prices on sites like eBay were significantly higher. The figurine came with a pair of black socks, glasses, a leather belt, a bar stool, a "One More Thing" backdrop, and two apples, with a bite taken out of one of them.
Word that Apple was attempting to halt sales of the action figure first surfaced earlier this month. The Cupertino, Calif., company asserted that it owns the rights to the likeness of Jobs.
Cheung said he originally created the action figure of Jobs as a tribute to him. It is a poseable figurine that was shown in promotional images delivering a keynote, sitting on a stool, and pointing, mimicking things Jobs did in real life.
The action figure isn't the first object to carry a likeness of Jobs that Apple shut down. Om December of 2010, the company also halted sales of a miniature statue depicting Jobs holding an iPhone and standing atop an Apple logo.