iPhone 4S accounts for 90% of US iPhone sales, 42% of customers break contract to buy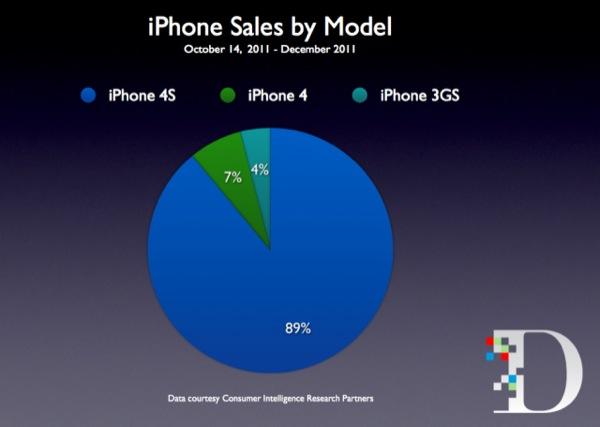 Despite the customary price drop of Apple's last generation iPhone 4 and the free-on-contract iPhone 3GS, the company's newest handset dominated sales and has seen strong numbers not only from early adopters, but "conventional" smartphone users as well.
Citing a recent survey by Consumer Intelligence Research Partners, All Things D reports that since the debut of the iPhone 4S in October 2011, some 89 percent of all U.S. iPhone sales can be attributed to the newest Apple smartphone.
The CIRP survey shows that iPhone buyers weren't put off by the $399 price of the top-of-the-line 4S, which boasts up to 64 GB of storage, and reports that an impressive 21 percent opted for the highest capacity model while the 32 GB and 16 GB versions garnered 34 percent and 45 percent of sales, respectively.
A deeper look into the figures reveals that recent iPhone buyers are bucking the trend of waiting the two years for their current contracts to expire before buying the popular device, and suggest that a majority of 4S adopters bypass cheaper legacy models for the newer Siri-enabled device.
"An amazing 19 percent of all iPhone buyers upgraded from the iPhone 4, a phone barely a year old at the time of the launch," said CIRP co-founder Mike Levin. "Forty-two percent of iPhone buyers broke existing carrier contracts to get the new iPhone 4S. And 19 percent of these iPhone 4S buyers sold their old iPhone in the secondary market. Early upgrades, broken contracts, and selling used phones — all allow buyers to purchase the new iPhone 4S, when conventional wisdom suggests that these users would follow the two-year contract cycle, or at least purchase the cheaper models."
The news comes on the heels of Apple's Q1 2012 earning's call on Tuesday, which outlined the company's best performance ever and the second best quarterly corporate performance in U.S. history.

Apple's newest 4S has dominated the overall iPhone market since its launch in October | Source: All Things D
Apple's newest handset has seen amazing success after a longer than usual product refresh cycle built up customer demand to unprecedented heights. Sales were so strong that CEO Tim Cook said during the after-earnings conference call that Apple failed to correctly gauge demand for the handset, and a "risky bet" in producing devices based on what was then considered high-side estimates was in fact too small.
The iPhone 4S rollout was the fastest in company history and the product line continues to set records for both Apple and mobile carriers such as AT&T's 2011 holiday quarter where the iPhone represented 80.8 percent of all smartphones activated. Verizon recorded 4.2 million iPhone activations which represented more than half of the number one U.S. carrier's smartphone sales.