Apple releases free update to Final Cut Pro X with multi-cam editing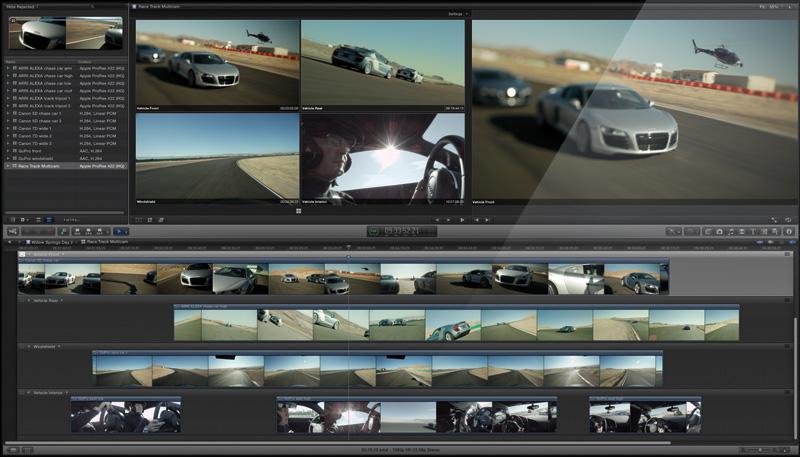 Apple on Tuesday announced the release of Final Cut Pro X v10.0.3, a significant update to its new professional video editing application that attempts to address some of the gripes customers had with the initial makeover of the product less than a year ago.
In particular, the new version includes a collection of tools for editing multicam projects. Apple says the software automatically syncs clips from a shoot using audio waveforms, time and date, or timecode to create a Multicam Clip with up to 64 angles of video, which can include mixed formats, frame sizes and frame rates.
A customizable Angle Editor now lets editors dive into their Multicam Clip to make precise adjustments, including playing back multiple angles at the same time to seamlessly cut between them.
"You can change, add, or delete camera angles at any time and work with different codecs, frame sizes, and frame rates without conversion," Apple says. "When it's time to cut your multicam project, simply click in the Angle Viewer or use keyboard shortcuts to switch between angles on the fly."
Final Cut Pro X 10.0.3 also builds upon its one-step chroma key with the addition of advanced controls, including color sampling, edge adjustment and light wrap. This allows editors to tackle complex keying challenges right in Final Cut Pro X, without having to export to a motion graphics application.
Meanwhile, a new Media Relink feature that lets editors reconnect media and exchange files with third-party applications using a robust relink interface. Editors can select media that has been moved or modified, or locate clips that have been transcoded, trimmed, or color graded by third-party tools. Then easily relink them to a Final Cut Pro X project or Event.
Apple has also enhanced XML in Final Cut Pro X 10.0.3 for a richer interchange with third party apps and plug-ins:
"In the seven months since launch, the third party ecosystem around Final Cut Pro X has expanded dramatically," the company said in a statement. "XML-compatible software like DaVinci Resolve and CatDV provide tight integration for tasks such as color correction and media management. The new 7toX app from Intelligent Assistance uses XML to import Final Cut Pro 7 projects into Final Cut Pro X. In addition, some of the industry's largest visual effects developers, including GenArts and Red Giant, have developed motion graphics plug-ins that take advantage of the speed and real-time preview capabilities of Final Cut Pro X."
Final Cut Pro X v10.0.3 is available on the Mac App Store as a free update to owners of the $300 software. It also includes a beta of broadcast monitoring that supports Thunderbolt devices as well as PCIe cards. Apple says the beta allows editors to connect to waveform displays, vectorscopes, and calibrated, high-quality monitors to ensure their projects meets broadcast specifications. Final Cut Pro X supports monitoring of video and audio through Thunderbolt I/O devices, as well as through third party PCIe cards.

Last June, Apple introduced Final Cut Pro X as a "revolutionary new version" of its legacy video editing platform that it said would "completely reinvents video editing." However, the ground-up redesign of the application led to considerable backlash from the Final Cut community, who lambasted the software for missing features, its more consumer-oriented approach, lack of compatibility with Final Cut Pro 7 and general quirks.
Final Cut product managers were quick to address the community's concerns, promising improvements through updates such as the one launched Tuesday. Those Final Cut Pro X customers who were unwilling to wait for the refinements and adapt to the new system were given their money back.