Motorola seeking 2.25% of Apple's sales for standard-essential patent license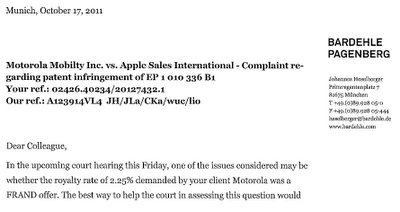 AppleInsider is supported by its audience and may earn commission as an Amazon Associate and affiliate partner on qualifying purchases. These affiliate partnerships do not influence our editorial content.
Recently uncovered court documents from Motorola Mobility's legal complaints against Apple have revealed that the handset maker is seeking 2.25 percent of Apple's sales of wireless devices in exchange for a patent license covering its standard-essential intellectual property.
The figure came to light as a result of a motion from Apple requesting Qualcomm's patent license agreement with Motorola, as reported by Florian Mueller of FOSS Patents.
The Cupertino, Calif., company argued that its devices could potentially be covered by extension under its own license for baseband chips from Qualcomm. It also sought to prove that Motorola's request for 2.25 percent in royalties was unfair. The patent in question was committed by Motorola to be subject to Fair Reasonable and Non-Discriminatory licensing, which means that the company must offer a licensing agreement to competitors asking for it.
Motorola opposed Apple's motion, but was ultimately shot down at the end of January. Apple has also filed motions requesting Motorola's agreements with rivals Nokia, HTC, LG and Ericsson in order to determine the specifics of their respective agreements and how much they pay in royalties.
Mueller noted that the revelation of the actual royalty rate is a rare occurrence. "In this case, the related document was not sealed, and it appears that Motorola's counsel did not allege a violation of a protective order," he wrote.
Though the letter outing Motorola's demands did not specifically state that the proposed 2.25 percent royalty covers all of its standards-related patents, Mueller assumed "in Motorola's favor" that it did, since that rate for a single patent would be unheard of. Even with that assumption, he went on to note that the rate "still appears excessive," since the number of companies that hold patents for standards would result in an unfeasible aggregate royalty rate if all of them requested a similar percentage.
The patent in question, which is related to push services, has already caused trouble for Apple in Germany, as Motorola won on Friday an injunction against Apple's iCloud and MobileMe services. Apple quickly pulled its 3G iPads and older iPhone models from its German online store, but it recommenced sales after managing to win a suspension on the ruling later in the day.
"Apple appealed this ruling because Motorola repeatedly refuses to license this patent to Apple on reasonable terms, despite having declared it an industry standard patent seven years ago," the company said in a statement.
If Motorola is found to have abusively wielded its FRAND patents, it could face an antitrust investigation from a European agency. Rival Samsung is currently the subject to a formal investigation into its use of standard-essential FRAND patents in lawsuits, particularly in its complaints against Apple.
Mueller speculated that Apple will take a similar approach with Motorola as it has with Samsung. That would entail arguing that Motorola's proposed rate is discriminatory because it is presumably higher than the royalties paid by other market players. Motorola would likely respond by arguing that the others cross-licensed their own standard-essential wireless patents. Apple could then argue that Motorola's offer was a "prohibitive license offer that Apple couldn't possibly accept" with Motorola's end goal being an injunction against its rival in order to force it to leverage its own "non-standards-related innovations."