AT&T's 4G-compatible micro-SIM cards prompt speculation of LTE 'iPad 3'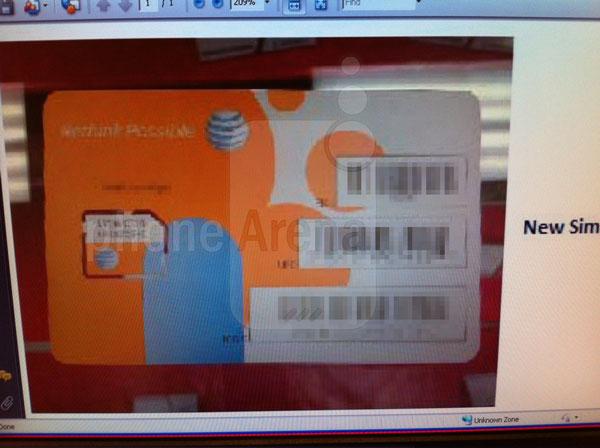 AppleInsider may earn an affiliate commission on purchases made through links on our site.
AT&T stores have begun receiving new micro-SIM cards compatible with the carrier's LTE 4G network, prompting speculation that they could be compatible with a new third-generation iPad from Apple compatible with 4G LTE networks.
Pictures of the new LTE micro-SIM cards were published on Friday by PhoneArena.com. The cards are arriving in stores before the launch of the 4G Nokia Lumia 900, but also come weeks ahead of an anticipated announcement from Apple of a third-generation iPad.
Apple currently uses micro-SIM cards in both the iPhone and 3G-capable iPad for wireless data connectivity. But those cards are not compatible with AT&T's new high-speed 4G LTE network, available in select markets. Apple has yet to sell an LTE device.
Rumors of an LTE-capable iPad are not new. In January, Bloomberg reported that Apple had begun building a third-generation iPad with LTE connectivity built in. That report said the so-called "iPad 3" would launch in March.
Apple is expected to hold a media event the first week of March to introduce its third-generation iPad. The anticipated device is rumored to feature a high-resolution Retina Display.
While claims about the next iPad's display have been relatively consistent, little has been said about the 3G capabilities of the rumored device. Last year, Apple Chief Executive Tim Cook said poor battery life and other issues with the first generation of LTE chips were enough to dissuade the company from pursuing an LTE iPhone.
3G-compatible micro-SIM cards were first adopted by Apple in 2010 with the first-generation iPad. The smaller cards, which allow more space inside the device, eventually made their way to the iPhone line as well, and are still found in the new iPhone 4S, which is a world phone compatible with both GSM and CDMA networks.
In late 2010, it was said that Apple was developing its own open embedded SIM card that would work with multiple carriers. That change would have allegedly allowed customers to shop for mobile service directly from an Apple Store, eliminating the need for users to work with the carriers.
But Apple was said to have abandoned those plans after carriers in Europe allegedly threatened to cut subsidies. Mobile operators reportedly accused Apple of trying to wrest control of customers away from the carriers.