Record day pushes Apple stock to nearly a half-trillion dollars in value [u]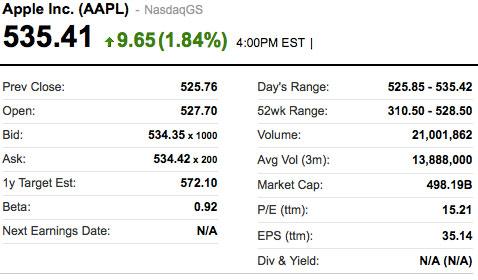 AppleInsider is supported by its audience and may earn commission as an Amazon Associate and affiliate partner on qualifying purchases. These affiliate partnerships do not influence our editorial content.
With Apple's iPad media event now official, the company's stock was sent to new heights on Tuesday, propelling its total market capitalization to nearly $500 billion.
Following the release of invitations to its March 7 event on Tuesday, Apple crossed the $535 mark in the afternoon. That was enough to push its market cap to more than $498 billion dollars. AAPL stock closed the day up $9.65, or 1.84 percent, within spitting distance of $500 billion.
For comparison, Exxon Mobile Corporation, a company with which Apple was neck-and-neck in terms of market cap for months, was worth $411 billion as of Tuesday afternoon, or nearly $90 billion less than Apple.
Earlier this month, Apple blew past a market capitalization of $456 billion, which at the time was equal to the combined market cap of its rivals Microsoft and Google. Apple's upward trajectory has continued since the company reported its best quarter ever, earning $13.06 billion on sales of 37 million iPhones, 15 million iPads and 5.2 million Macs during the holidays of 2011.
Apple first surpassed Microsoft in May of 2010, when each company had a market cap of around $222 billion. In less than two years, Apple's market value has more than doubled, while on Tuesday Microsoft's market cap was a little more than half that of Apple's, at $267 billion.
Though Apple's stock hit new bests on Thursday, many analysts expect that it will go much higher over the coming weeks and months. Gene Munster with Piper Jaffray has maintained a price target of $670, Robert Cihra of Evercore has a projected price of $650, and a $600 price target is shared by Mike Abramsky of RBC Capital Markets and Chris Whitmore of Deutsche Bank.
Update: Apple has hit the half-trillion dollar mark in after hours trading, pushing the stock's price past its 52-week high to $536.39 as of 6:03PM EST.