Bloom Energy believed to be behind Apple's 5MW fuel cell farm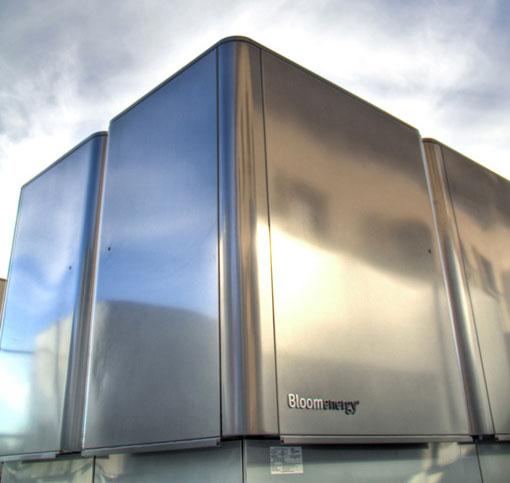 AppleInsider is supported by its audience and may earn commission as an Amazon Associate and affiliate partner on qualifying purchases. These affiliate partnerships do not influence our editorial content.
Bloom Energy, maker of the much-hyped "Bloom Box" energy server, is believed to be the supplier behind Apple's planned 5-megawatt fuel cell farm in North Carolina.
Up to 50 Bloom Boxes, each capable of supplying 100 killowatts of power, would meet Apple's advertised 5-megawatt capacity at the new fuel cell farm. Citing a few sources, GigaOm reported on Friday that Bloom Energy and its Bloom Boxes are in fact planned to be the power source at the forthcoming plant.
The new fuel cell farm is set to run on biogas, or methane from organic waste, as well as oxygen. Apple revealed last month that its Maiden, N.C., data center will feature the largest nonutility fuel cell installation in the U.S.
The fuel cell farm will provide more than 40 million kWh of 24x7 baseload renewable energy annually. When paired with the 20-megawatt solar farm Apple is also building, the data center will be the largest in its class with LEED Platinum certification from the U.S. Green Building Council.
Friday's report also claimed that beyond Apple's green data center in North Carolina, the company has also allegedly partnered with Bloom for "a few" fuel cells that are found on the company's Cupertino, Calif. campus.
The rumored partnership with Bloom is also seen as likely because the company is one of only a few that would even be capable of building such a large array of fuel cells. Bloom has previously secured a deal to build a 30-megawatt fuel cell farm with 300 Bloom Boxes in Delaware.
Apple first announced plans to build its massive $1 billion server farm in Maiden in 2009. The facility opened last spring, and it helps to power Apple's online operations, including the iCloud umbrella of Web applications and services, and the iTunes Store that serves up applications, music, movies, books and more.